Home
January / February 2012
January / February 2012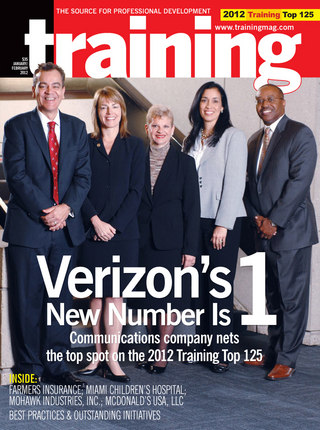 View Digital Edition
The best learning and development organizations support business initiatives tactically and help drive strategic change. Verizon did just that, earning it the No. 1 spot for the first time on the Training Top 125. Verizon and the other 2012 Top 125 winners continued to invest in training, collectively dedicating a mean of 4.52 percent of their payroll to the training budget. Some 24 newcomers earned a spot on the list this year, the 12th in a row Training has ranked the top companies of employer-sponsored workforce training and development.
BEST PRACTICES Edward Jones: Practice Makes Perfect (Sales Training) Each month, Edward Jones hires more than 150 new recruits with little financial background, then trains them to serve clients well. This organic growth is achieved through extensive training, including coaching by veterans, online study, virtual classes, weeklong stints of classroom training, and recorded role-play.
By Michael Rosenthal Q: With the economy slowly improving, my organization finally has reignited our development initiatives. However, since our current budget pales compared to the pre-recession years, I have been asked to focus our training efforts on leadership, management, and sales. I'd like to consolidate as much as possible to realize economies of scale. I can see some intersection between leadership and management, but I am having trouble identifying common threads with sales. What are some best practices that apply to all three?
By Roy Saunderson Has the demand for candor, openness, and personal responsibility in society—a.k.a., "transparency"—effectively affected the field of learning and development?
>> Novero introduced the Solana Tablet/PC. With a simple twist, this slim laptop screen rotates to create a mobile 10-inch tablet for reading, games, or hundreds of applications. It contains two USB ports, audio and microphone jacks, video output, built-in card reader and SIM card slot, Windows 7, and Android 2.3.
By Bob Pike I worked in Australia, Japan, and China for most of November last year. In seminars in each of those countries I asked participants to create a list of what I call "magic phrases" during the training. These are short phrases that capture the essence or "magic" of a key training concept.
As London taxi drivers in training are learning how to navigate the city's thousands of streets, the experience actually changes the structure of their brains, according to a report published online in Current Biology, a Cell Press publication. The findings add to evidence that learning changes the adult brain and should come as encouraging news for life-long learning, says Eleanor Maguire of University College London.
By Tony O'Driscoll At the Training 2012 Conference, we gathered to celebrate the 35 years we have spent together as a community of committed and capable learning professionals tirelessly dedicated to understanding how to leverage human capital to drive business results.
>> Whiteboard Products launched a suite of its environmentally friendly products that will help improve the way businesses in the U.S. and Canada train, present, learn, teach, and brainstorm. The supercharged whiteboard on a roll sticks with static to any flat surface. Users simply unroll the whiteboard, tear off a sheet along the perforation (or roll it out to make a 65-foot-long whiteboard), and place it on the wall. Additional products now available include the Magic Blackboard for colored displays and a Clearboard that can be written on with dry erase markers.
By Neal Goodman, Ph.D. Between 50 and 70 percent of international joint ventures (IJVs) fail, yet the number of IJVs, mergers, and acquisitions continues to increase. It is estimated that companies are making a combined investment of upward of $500 billion a year in these high-risk/high-reward ventures. What must not be overlooked is the role Training and Development can play in increasing the likelihood that these ventures will be more rewarding and less risky. Here is one current example: