Home
January / February 2012
January / February 2012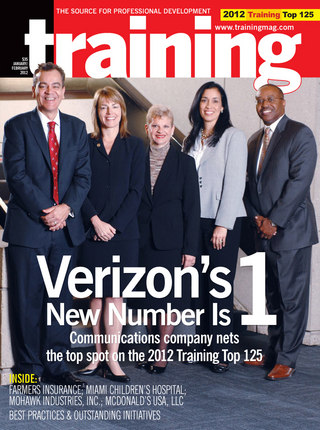 View Digital Edition
The best learning and development organizations support business initiatives tactically and help drive strategic change. Verizon did just that, earning it the No. 1 spot for the first time on the Training Top 125. Verizon and the other 2012 Top 125 winners continued to invest in training, collectively dedicating a mean of 4.52 percent of their payroll to the training budget. Some 24 newcomers earned a spot on the list this year, the 12th in a row Training has ranked the top companies of employer-sponsored workforce training and development.
BEST PRACTICES Edward Jones: Practice Makes Perfect (Sales Training) Each month, Edward Jones hires more than 150 new recruits with little financial background, then trains them to serve clients well. This organic growth is achieved through extensive training, including coaching by veterans, online study, virtual classes, weeklong stints of classroom training, and recorded role-play.
>> Whiteboard Products launched a suite of its environmentally friendly products that will help improve the way businesses in the U.S. and Canada train, present, learn, teach, and brainstorm. The supercharged whiteboard on a roll sticks with static to any flat surface. Users simply unroll the whiteboard, tear off a sheet along the perforation (or roll it out to make a 65-foot-long whiteboard), and place it on the wall. Additional products now available include the Magic Blackboard for colored displays and a Clearboard that can be written on with dry erase markers.
By Neal Goodman, Ph.D. Between 50 and 70 percent of international joint ventures (IJVs) fail, yet the number of IJVs, mergers, and acquisitions continues to increase. It is estimated that companies are making a combined investment of upward of $500 billion a year in these high-risk/high-reward ventures. What must not be overlooked is the role Training and Development can play in increasing the likelihood that these ventures will be more rewarding and less risky. Here is one current example:
>> Management Concepts Inc., a provider of training to the federal government, announced its exclusive collaboration with the Society for Human Resource Management (SHRM) to develop and offer HR training curricula for federal agencies. Six courses initially will be offered and will focus on federal market HR, talent acquisition and development, HR as a strategic business partner, building credibility in HR, human capital effectiveness metrics and workforce planning.
Lack of senior-level support has emerged as the main obstacle to the implementation of global leadership development programs, according to an online survey of nearly 400 senior managers and executives conducted by AMA Enterprise, a specialized division of American Management Association that offers advisory services and tailored learning programs to organizations. What is the main obstacle you encounter in implementing global leadership programs? Time: 15% Cost/Budget: 26% Complexity ofthe program: 8%
By Brad Karsh It is no easy task to motivate, engage, and involve your team, and it certainly doesn't happen overnight. Even today's most prominent business tycoons admit the most difficult part of their job is managing and leading their people. Take the late Steve Jobs, for instance. Jobs obviously made extraordinary contributions at Apple, but he spoke openly about his struggles in his role as CEO. Jobs learned from mistakes, and his analogy for what builds strong businesses was spot on:
The late Comedian George Carlin once said, "Do you hate your job? Sorry to hear that. There's a support group for that. It's called EVERYBODY, and they meet at the bar!" As a consultant on employee engagement to major health-care companies, Melissa Evans understands that feeling well. Her solution to it, however, is a little "uncorporate."
Return on expectations (ROE) is a foolproof way to show the value of training in the terms desired by key stakeholders. ROE demonstrates the degree to which training initiatives satisfy the expectations of key business stakeholders. Assumptions that may assist training professionals include: Key stakeholders are high-level managers or executives. Stakeholder expectations primarily include the accomplishment of the organization's highest-level goals and mission. Figure 1: The Kirkpatrick Model