Home
January / February 2012
January / February 2012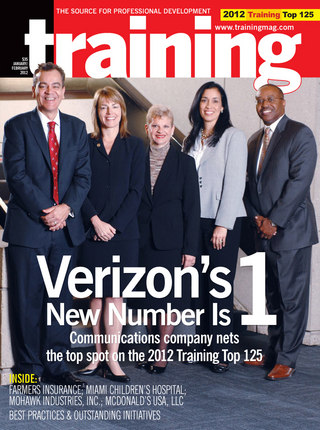 View Digital Edition
The best learning and development organizations support business initiatives tactically and help drive strategic change. Verizon did just that, earning it the No. 1 spot for the first time on the Training Top 125. Verizon and the other 2012 Top 125 winners continued to invest in training, collectively dedicating a mean of 4.52 percent of their payroll to the training budget. Some 24 newcomers earned a spot on the list this year, the 12th in a row Training has ranked the top companies of employer-sponsored workforce training and development.
BEST PRACTICES Edward Jones: Practice Makes Perfect (Sales Training) Each month, Edward Jones hires more than 150 new recruits with little financial background, then trains them to serve clients well. This organic growth is achieved through extensive training, including coaching by veterans, online study, virtual classes, weeklong stints of classroom training, and recorded role-play.
By Lorri Freifeld One may be the loneliest number, but Verizon isn't complaining. After appearing five times in the Top 10 over the last six years, the telecommunications company captured the No. 1 spot on the Training Top 125 for the first time in 2012. Despite a relatively flat training budget and a work stoppage that resulted from the expiration of union collective bargaining agreements, Verizon remained steadfast in its commitment to effective training tied to corporate strategic goals—and had the results to show for it.
By Lorri Freifeld It's not surprising an insurance company would have an insurance policy for the future. But Farmers Insurance takes that strategy one step further, setting its sights on 2020 with a far-reaching plan to foster growth, productivity, and leadership development through intensive training.
By Margery Weinstein With the health-care industry currently the largest employer in the United States and its labor market expected to achieve a 49 percent growth in the next five years, Miami Children's Hospital (MCH) faced a steep challenge: a doubling of the demand for talented people in health care coupled with a labor supply that continues to dwindle. The hospital answered that challenge with initiatives that attract, train, and retain the kind of talented people the organization needs to lead it into the future.
By Lorri Freifeld Many employees claim they learn best while doing, so they prefer to dive right in and learn as they go when they get a new job or take on new responsibilities. But the most successful and quickest learning on the job takes place when there is a formal on-the-job training (OJT) program—a fact many organizations and managers fail to take into account.
By Michael Rosenthal Q: With the economy slowly improving, my organization finally has reignited our development initiatives. However, since our current budget pales compared to the pre-recession years, I have been asked to focus our training efforts on leadership, management, and sales. I'd like to consolidate as much as possible to realize economies of scale. I can see some intersection between leadership and management, but I am having trouble identifying common threads with sales. What are some best practices that apply to all three?
By Roy Saunderson Has the demand for candor, openness, and personal responsibility in society—a.k.a., "transparency"—effectively affected the field of learning and development?