Home
January / February 2012
January / February 2012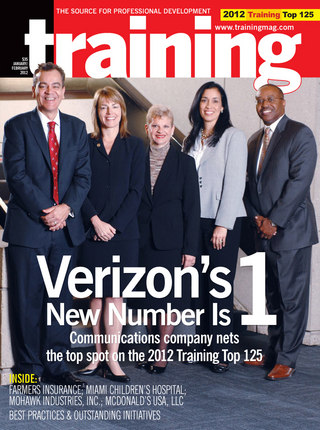 View Digital Edition
By Bob Pike I worked in Australia, Japan, and China for most of November last year. In seminars in each of those countries I asked participants to create a list of what I call "magic phrases" during the training. These are short phrases that capture the essence or "magic" of a key training concept.
As London taxi drivers in training are learning how to navigate the city's thousands of streets, the experience actually changes the structure of their brains, according to a report published online in Current Biology, a Cell Press publication. The findings add to evidence that learning changes the adult brain and should come as encouraging news for life-long learning, says Eleanor Maguire of University College London.
By Tony O'Driscoll At the Training 2012 Conference, we gathered to celebrate the 35 years we have spent together as a community of committed and capable learning professionals tirelessly dedicated to understanding how to leverage human capital to drive business results.
>> Whiteboard Products launched a suite of its environmentally friendly products that will help improve the way businesses in the U.S. and Canada train, present, learn, teach, and brainstorm. The supercharged whiteboard on a roll sticks with static to any flat surface. Users simply unroll the whiteboard, tear off a sheet along the perforation (or roll it out to make a 65-foot-long whiteboard), and place it on the wall. Additional products now available include the Magic Blackboard for colored displays and a Clearboard that can be written on with dry erase markers.
By Neal Goodman, Ph.D. Between 50 and 70 percent of international joint ventures (IJVs) fail, yet the number of IJVs, mergers, and acquisitions continues to increase. It is estimated that companies are making a combined investment of upward of $500 billion a year in these high-risk/high-reward ventures. What must not be overlooked is the role Training and Development can play in increasing the likelihood that these ventures will be more rewarding and less risky. Here is one current example:
>> Management Concepts Inc., a provider of training to the federal government, announced its exclusive collaboration with the Society for Human Resource Management (SHRM) to develop and offer HR training curricula for federal agencies. Six courses initially will be offered and will focus on federal market HR, talent acquisition and development, HR as a strategic business partner, building credibility in HR, human capital effectiveness metrics and workforce planning.
Lack of senior-level support has emerged as the main obstacle to the implementation of global leadership development programs, according to an online survey of nearly 400 senior managers and executives conducted by AMA Enterprise, a specialized division of American Management Association that offers advisory services and tailored learning programs to organizations. What is the main obstacle you encounter in implementing global leadership programs? Time: 15% Cost/Budget: 26% Complexity ofthe program: 8%
By Brad Karsh It is no easy task to motivate, engage, and involve your team, and it certainly doesn't happen overnight. Even today's most prominent business tycoons admit the most difficult part of their job is managing and leading their people. Take the late Steve Jobs, for instance. Jobs obviously made extraordinary contributions at Apple, but he spoke openly about his struggles in his role as CEO. Jobs learned from mistakes, and his analogy for what builds strong businesses was spot on:
The late Comedian George Carlin once said, "Do you hate your job? Sorry to hear that. There's a support group for that. It's called EVERYBODY, and they meet at the bar!" As a consultant on employee engagement to major health-care companies, Melissa Evans understands that feeling well. Her solution to it, however, is a little "uncorporate."