Home
January / February 2012
January / February 2012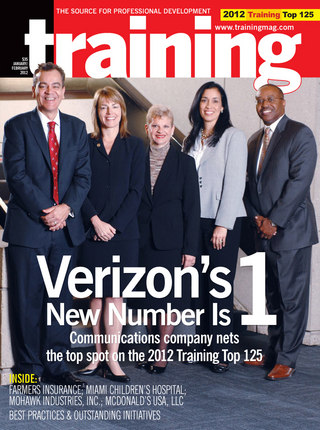 View Digital Edition
By Lorri Freifeld Many employees claim they learn best while doing, so they prefer to dive right in and learn as they go when they get a new job or take on new responsibilities. But the most successful and quickest learning on the job takes place when there is a formal on-the-job training (OJT) program—a fact many organizations and managers fail to take into account.
By Michael Rosenthal Q: With the economy slowly improving, my organization finally has reignited our development initiatives. However, since our current budget pales compared to the pre-recession years, I have been asked to focus our training efforts on leadership, management, and sales. I'd like to consolidate as much as possible to realize economies of scale. I can see some intersection between leadership and management, but I am having trouble identifying common threads with sales. What are some best practices that apply to all three?
By Roy Saunderson Has the demand for candor, openness, and personal responsibility in society—a.k.a., "transparency"—effectively affected the field of learning and development?
>> Novero introduced the Solana Tablet/PC. With a simple twist, this slim laptop screen rotates to create a mobile 10-inch tablet for reading, games, or hundreds of applications. It contains two USB ports, audio and microphone jacks, video output, built-in card reader and SIM card slot, Windows 7, and Android 2.3.
By Bob Pike I worked in Australia, Japan, and China for most of November last year. In seminars in each of those countries I asked participants to create a list of what I call "magic phrases" during the training. These are short phrases that capture the essence or "magic" of a key training concept.
As London taxi drivers in training are learning how to navigate the city's thousands of streets, the experience actually changes the structure of their brains, according to a report published online in Current Biology, a Cell Press publication. The findings add to evidence that learning changes the adult brain and should come as encouraging news for life-long learning, says Eleanor Maguire of University College London.
By Tony O'Driscoll At the Training 2012 Conference, we gathered to celebrate the 35 years we have spent together as a community of committed and capable learning professionals tirelessly dedicated to understanding how to leverage human capital to drive business results.
>> Whiteboard Products launched a suite of its environmentally friendly products that will help improve the way businesses in the U.S. and Canada train, present, learn, teach, and brainstorm. The supercharged whiteboard on a roll sticks with static to any flat surface. Users simply unroll the whiteboard, tear off a sheet along the perforation (or roll it out to make a 65-foot-long whiteboard), and place it on the wall. Additional products now available include the Magic Blackboard for colored displays and a Clearboard that can be written on with dry erase markers.