Home
January / February 2012
January / February 2012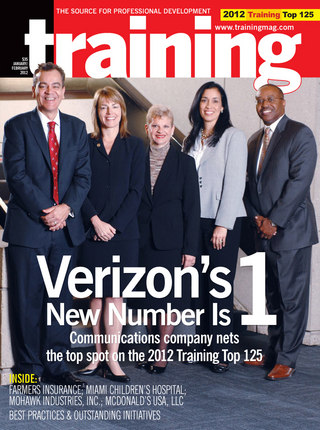 View Digital Edition
Verizon rang in the New Year with a new number: The telecom company earned the No. 1 spot on the 2012 Training Top 125. Farmers Insurance claimed the No. 2 spot, while Top 5 newcomers Miami Children's Hospital, Mohawk Industries, and McDonald's nabbed Nos. 3, 4, and 5, respectively. Some 24 new companies broke into the Top 125 this year, with Capital One and Sprint Nextel Corp. debuting in the Top 50. The majority of the companies are in the health/medical services, real estate/insurance, business services, and finance/banking industries.
Want to have a wickedly successful 2012? Vickie Milazzo, RN, MSN, JD, owner of Vickie Milazzo Institute and author of The New York Times bestseller, "Wicked Success Is Inside Every Woman" (Wiley, 2011, www.WickedSuccess.com), has some ideas about where to start:
By Lorri Freifeld One may be the loneliest number, but Verizon isn't complaining. After appearing five times in the Top 10 over the last six years, the telecommunications company captured the No. 1 spot on the Training Top 125 for the first time in 2012. Despite a relatively flat training budget and a work stoppage that resulted from the expiration of union collective bargaining agreements, Verizon remained steadfast in its commitment to effective training tied to corporate strategic goals—and had the results to show for it.
By Lorri Freifeld It's not surprising an insurance company would have an insurance policy for the future. But Farmers Insurance takes that strategy one step further, setting its sights on 2020 with a far-reaching plan to foster growth, productivity, and leadership development through intensive training.
By Margery Weinstein With the health-care industry currently the largest employer in the United States and its labor market expected to achieve a 49 percent growth in the next five years, Miami Children's Hospital (MCH) faced a steep challenge: a doubling of the demand for talented people in health care coupled with a labor supply that continues to dwindle. The hospital answered that challenge with initiatives that attract, train, and retain the kind of talented people the organization needs to lead it into the future.
  Training 2012 Conference & Expo speaker Allison DeTitto shows how social media is as easy as Marketing 101.
By Michael Rich The Wellness Council of America reports a $24 return for every $1 spent on a company wellness program for small businesses. Furthermore, a 2005 survey by The Art of Health Promotionreported companies instituting employee health and wellness programs realized a 30 percent reduction in medical and absenteeism costs in less than four years. To recognize these benefits and more, implement a workplace fitness program by following these simple steps:
By Lisa Green, Training Manager, HRS and H&B Operations, at the Paychex Training and Development Center Kelly Schnupp never thought participating in a three-month program to enhance her training skills would have such a powerful and immediate impact on the company's bottom line, but her experience with the Paychex Train-the-Trainer Partnership has left her pleasantly surprised.
By Lester Stephenson It is becoming increasingly common for training classes to have students from all over the world. But it is impossible to adapt teaching styles and classroom culture to a student from India when sitting next to him is one from Vietnam, behind him is one from Iraq, and nearby is someone from Mexico and another from Atlanta, GA. Throw in language issues, and the task facing the instructor can be overwhelming—even intimidating.