Home
January / February 2012
January / February 2012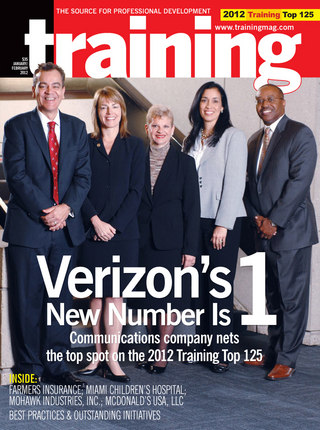 View Digital Edition
By Bob Pike I worked in Australia, Japan, and China for most of November last year. In seminars in each of those countries I asked participants to create a list of what I call "magic phrases" during the training. These are short phrases that capture the essence or "magic" of a key training concept.
As London taxi drivers in training are learning how to navigate the city's thousands of streets, the experience actually changes the structure of their brains, according to a report published online in Current Biology, a Cell Press publication. The findings add to evidence that learning changes the adult brain and should come as encouraging news for life-long learning, says Eleanor Maguire of University College London.
By Tony O'Driscoll At the Training 2012 Conference, we gathered to celebrate the 35 years we have spent together as a community of committed and capable learning professionals tirelessly dedicated to understanding how to leverage human capital to drive business results.
>> Whiteboard Products launched a suite of its environmentally friendly products that will help improve the way businesses in the U.S. and Canada train, present, learn, teach, and brainstorm. The supercharged whiteboard on a roll sticks with static to any flat surface. Users simply unroll the whiteboard, tear off a sheet along the perforation (or roll it out to make a 65-foot-long whiteboard), and place it on the wall. Additional products now available include the Magic Blackboard for colored displays and a Clearboard that can be written on with dry erase markers.
By Neal Goodman, Ph.D. Between 50 and 70 percent of international joint ventures (IJVs) fail, yet the number of IJVs, mergers, and acquisitions continues to increase. It is estimated that companies are making a combined investment of upward of $500 billion a year in these high-risk/high-reward ventures. What must not be overlooked is the role Training and Development can play in increasing the likelihood that these ventures will be more rewarding and less risky. Here is one current example:
  Training 2012 Conference & Expo speaker Allison DeTitto shows how social media is as easy as Marketing 101.
By Michael Rich The Wellness Council of America reports a $24 return for every $1 spent on a company wellness program for small businesses. Furthermore, a 2005 survey by The Art of Health Promotionreported companies instituting employee health and wellness programs realized a 30 percent reduction in medical and absenteeism costs in less than four years. To recognize these benefits and more, implement a workplace fitness program by following these simple steps:
By Lisa Green, Training Manager, HRS and H&B Operations, at the Paychex Training and Development Center Kelly Schnupp never thought participating in a three-month program to enhance her training skills would have such a powerful and immediate impact on the company's bottom line, but her experience with the Paychex Train-the-Trainer Partnership has left her pleasantly surprised.
By Lester Stephenson It is becoming increasingly common for training classes to have students from all over the world. But it is impossible to adapt teaching styles and classroom culture to a student from India when sitting next to him is one from Vietnam, behind him is one from Iraq, and nearby is someone from Mexico and another from Atlanta, GA. Throw in language issues, and the task facing the instructor can be overwhelming—even intimidating.