Home
January / February 2013
January / February 2013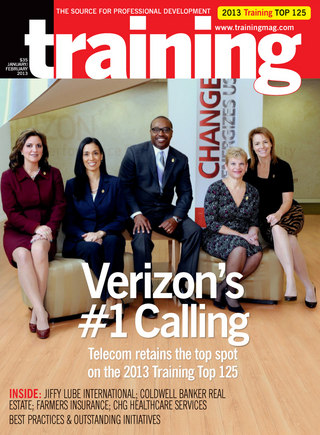 View Digital Edition
By Roy Saunderson, Chief Learning Officer, Recognition Management Institute I will never forget my Psychology of Memory course—no pun intended. Being a mature student when I started university, I fell into the normal throes of prerequisite courses in my first year, which required taking science and math courses missed during high school. Not fully appreciating all the prerequisite courses assigned to me, once they were completed, I vowed to make my second year of university a far more relevant learning experience by choosing exactly what I wanted to learn.
Excelsior, MN (February 18, 2013)— Verizon picked up the No. 1 spot on the Training Top 125 for the second year in a row, earning its induction into the Top 10 Hall of Fame in 2014 after securing positions in the Top 10 for the last four consecutive years. No. 4 Farmers Insurance likewise punched its ticket to the Top 10 Hall of Fame next year. Top 5 newcomers Jiffy Lube International, Coldwell Banker Real Estate, and CHG Health Care Services nabbed Nos. 2, 3, and 5, respectively. This year, 25 newcomers cracked the Top 125 list.
By Lorri Freifeld Ask Ernst & Young Chief Learning Officer Mike Hamilton if there were anything he could do over again in his career, what it would be, and he just shakes his head. "I can't imagine a better career than I've had," he says. "I have traveled around the world. I had the opportunity to work with really talented people, many of whom view the world very differently than I do. My roles at Ernst & Young have always excited me and stretched me. I am not sure one can ask for more in a career."
In the Words Consulting offers some trends training professionals should consider tapping into in 2013 (if you haven't already):
By Jason W. Womack, MEd, MA Looking at your calendar for the month, you may have a trip (or two) already planned. While being "on the road" is good for business, it can take its toll on your health, relationships, and well-being. Here are three things to consider as you get ready to board that flight:
By Samantha Howland, Senior Partner and Executive Training Director, DSI In an era of unprecedented uncertainty, the ability to think strategically has emerged as an indispensable skill in helping leaders and organizations navigate change and sustain growth. Yet, for those charged with identifying and developing strategic thinkers, there is no clear path.