July / August 2017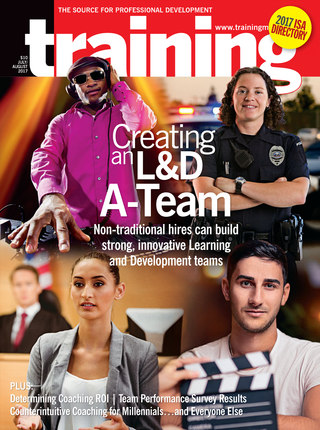 View Digital Edition
After 20 years in the organizational development world, I was so excited when Training 2017 keynoter Temple Grandin said, "Make time to think."

 
Find out about the latest advances in training technology.
The latest products and services launching in the training industry.
The latest training industry mergers, acquisitions, partnerships, and more.
Investing in employee engagement, satisfaction, and recognition strategies this year can deliver better customer service, improved customer satisfaction, and higher profits.
Performance management is about cultivating the skills and behaviors in your workforce that will help you achieve your organizational goals. Continuous feedback is becoming the heart of performance management.
While our day jobs focus on editing/writing, communicating, selling, marketing, and designing/producing events, members of our team possess a wealth of other talents they bring from past positions, second jobs, or passionate hobbies.
Each year Training magazine requires all Training Top 10 Hall of Famers to submit an Outstanding Training Initiative that is shared with our readers in a print issue. Here are the details of Booz Allen Hamilton's Summer Games Internship Program and McCarthy Building Companies' McCarthy Onboarding Initiative.
Training magazine taps 2017 Training Top 125 winners and Top 10 Hall of Famers to provide their learning and development best practices in each issue. Here, we look at PAREXEL International Corporation's clinical research career paths; Penn Station East Coast Subs' feedback model; and Signature Consultants' recruiter training programs.
Teenage employees can be valuable business assets— with the right training and oversight. They also will be the business leaders of tomorrow, so it's in companies' best interests to provide a positive workplace introduction.