March / April 2013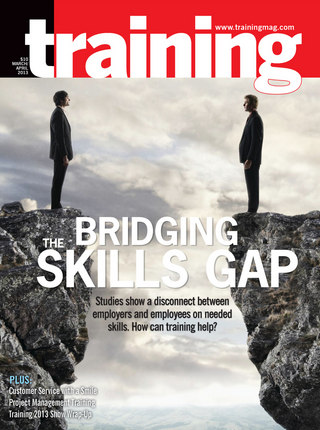 View Digital Edition
By Peter Post, Director, The Emily Post Institute Are companies really embracing social media? It appears so. The average midsize or large company (1,000 employees or more) has 178 "social media assets," according to the Business2Community Website. That means that, on average, 178 individuals are tweeting, blogging, or posting on behalf of their organizations on company social media outlets.
By Bruce Tulgan When it comes to the business of training, how do you make the business case for training?
By Marc Hequet Rob Bellmar sprinted for home, glancing over his shoulder to check for the throw. That's when he stepped on the bat in the base path and blew out his right quadriceps leg muscle. He learned something, though. About meetings. The softball injury last June meant that Bellmar, senior vice president at InterCall, had to phone in for a meeting a few days later, rather than attend in person.
>>Convey Health Solutions, a specialty health-care business process outsourcing firm, selected Mzinga's OmniSocial Learning to power its internal employee collaboration, training and communication initiatives, and expand into a community for customer experience and support.
By D'Anna Flowers, IT Training Manager, Accretive Health, Inc.
>> Led by CEO Bonnie Hagemann, Executive Development Associates launched Online Reference Check. The simple automated system provides objective, comprehensive feedback for employees, contractors, tenants, and more in three to five minutes. >> Porter and Chester Institute launched Career EDGE, an online career training tool that provides students with guidance in securing a job after completing their selected training programs. Career EDGE offers interactive resume building, interviewing tips, career search programs, and a video library of advice and information.
By Diane De Re, President, 321 FastDraw Inc. Since the dawn of time, mankind has used images to communicate. From the El Castillo cave in Cantabria, Spain, with artwork of bison, horses, aurochs, and deer painted on the cave walls by our ancestors nearly 40,000 years ago, to ancient Egypt as far back as 3200 B.C. where hieroglyphs were used as a writing system, it is clear that the use of artwork is one of our most basic and powerful forms of communication, seemingly hardwired into our genetics.
The annual global Talent Management Survey conducted by HR services provider NorthgateArinso (NGA) found that 87 percent of 1,119 businesspeople surveyed believe talent identification will be critical to the success of their organizations over the next three years. But more than half—51 percent—believe their industry suffers from a lack of suitable candidates. NGA offers three tips to HR practitioners to improve their talent management processes:
By Jason Bickle, Manager, Instructional Design & Development, Experlogix, Inc.
>> Total Training Network (TTN), a learning management system (LMS) and online training provider, released its new Élan Enterprise Learning Platform. It provides on-screen flexible functionality using definable and movable "gadgets." >> Cloud-based technology solutions and consulting company KeyedIn Solutions launched a resource hub focused on Professional Services Organizations (PSOs). It provides free-to-download white papers and access to topical Webinars, a blog, and Twitter feed.