March / April 2013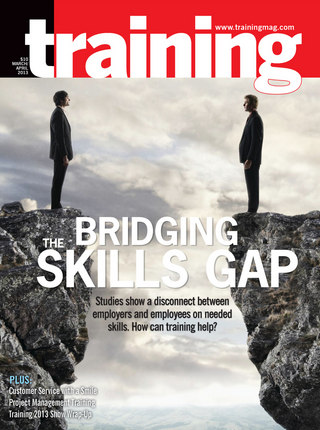 View Digital Edition
By Jason Bickle, Manager, Instructional Design & Development, Experlogix, Inc.
>> Total Training Network (TTN), a learning management system (LMS) and online training provider, released its new Élan Enterprise Learning Platform. It provides on-screen flexible functionality using definable and movable "gadgets." >> Cloud-based technology solutions and consulting company KeyedIn Solutions launched a resource hub focused on Professional Services Organizations (PSOs). It provides free-to-download white papers and access to topical Webinars, a blog, and Twitter feed.
By Neal Goodman, Ph.D., President, Global Dynamics, Inc. Afundamental impediment in human interactions is the lack of trust. According to Stephen M.R. Covey, author of bestseller "The Speed of Trust," training programs to promote trust enhance performance and profitability.
By Roy Saunderson, Chief Learning Officer, Rideau's Recognition Management Institute There is a classic cliché definition that meetings are where minutes are kept and hours are lost. However, someone I know recently challenged that perspective by suggesting the idea that every meeting should be a revelatory experience.
By Dr. Neil Orkin, President, Global Training Systems Bondi Beach, The Sydney Opera House, koala bears, kangaroos. Is there a training world in the "Land Down Under?" Yes, yes, and yes! Ignore this beautiful country at your own risk. Business opportunities abound in Australia for your organization, and there is an interest and need for human resource development. Your training investment will return a significant profit.
By Gail Dutton Ask a project manager what he or she does, and you'll probably get an answer along the lines of "bring order to chaos." And while "chaos" may be overstating the situation a bit, project managers do provide guidance and drive to keep projects moving in the right direction and, for clients, a consistent experience and single point of contact. Often, professional management is included in a customer's project requirements. Consequently, organizations are realizing that project managers provide a strategic advantage.