March / April 2013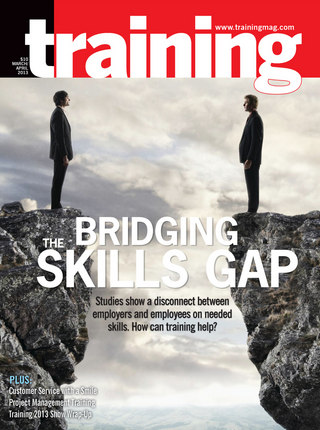 View Digital Edition
Employers want certain skills. Employees don't have them. Why? And what can organizations and Training, employees, and the educational system do to eliminate the disconnect?
Edited by Margery Weinstein Last year, Caesars Entertainment Corporation was facing stagnant customer service scores on weekly and quarterly surveys, the metric that determines success of customer loyalty and satisfaction. Each quarter and annually the organization strives for a 3 percent shift of non-A to A scores on customer service surveys year-over-year. Ingrained customer service behaviors helped keep the scores near the same level as the previous year, yet improvement to meet the goal of continuous improvement was becoming a challenge.
By Bob Pike CSP, CPAE, CPLP Fellow How long should training be? Almost every time I lead a seminar in the U.S. I get feedback that trainers are being pressured to deliver training faster. If, as a trainer, you believe it will take three days to develop the needed skills and knowledge, you're asked to deliver it in two. If it can be done in two, then do it in one. If one, then a half-day should do it. If in an hour, then don't you just have a pill people can take? In the U.S., it seems, it always will take too much time.
By Tony O'Driscoll Last month, I was sitting in a leadership development program listening to two talented executives share personal stories about how they had learned to lead. As they shared their leadership lessons with the participants, I noticed that one word kept coming up over and over again. That word was "CONTEXT." "Before I tell you this story, let me set some context," one said. "To understand why I made the decision I did, it is important for me to give you some more context," said the other.
By Stacey Harris, VP of Research, Brandon Hall Group
By Neal Goodman, Ph.D., President, Global Dynamics, Inc. Afundamental impediment in human interactions is the lack of trust. According to Stephen M.R. Covey, author of bestseller "The Speed of Trust," training programs to promote trust enhance performance and profitability.
By Roy Saunderson, Chief Learning Officer, Rideau's Recognition Management Institute There is a classic cliché definition that meetings are where minutes are kept and hours are lost. However, someone I know recently challenged that perspective by suggesting the idea that every meeting should be a revelatory experience.
By Dr. Neil Orkin, President, Global Training Systems Bondi Beach, The Sydney Opera House, koala bears, kangaroos. Is there a training world in the "Land Down Under?" Yes, yes, and yes! Ignore this beautiful country at your own risk. Business opportunities abound in Australia for your organization, and there is an interest and need for human resource development. Your training investment will return a significant profit.