March / April 2013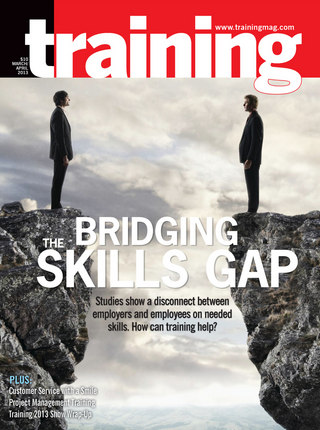 View Digital Edition
Employers want certain skills. Employees don't have them. Why? And what can organizations and Training, employees, and the educational system do to eliminate the disconnect?
Edited by Margery Weinstein Last year, Caesars Entertainment Corporation was facing stagnant customer service scores on weekly and quarterly surveys, the metric that determines success of customer loyalty and satisfaction. Each quarter and annually the organization strives for a 3 percent shift of non-A to A scores on customer service surveys year-over-year. Ingrained customer service behaviors helped keep the scores near the same level as the previous year, yet improvement to meet the goal of continuous improvement was becoming a challenge.
By Stacey Harris, VP of Research, Brandon Hall Group
By Tony O'Driscoll Last month, I was sitting in a leadership development program listening to two talented executives share personal stories about how they had learned to lead. As they shared their leadership lessons with the participants, I noticed that one word kept coming up over and over again. That word was "CONTEXT." "Before I tell you this story, let me set some context," one said. "To understand why I made the decision I did, it is important for me to give you some more context," said the other.
By Bob Pike CSP, CPAE, CPLP Fellow How long should training be? Almost every time I lead a seminar in the U.S. I get feedback that trainers are being pressured to deliver training faster. If, as a trainer, you believe it will take three days to develop the needed skills and knowledge, you're asked to deliver it in two. If it can be done in two, then do it in one. If one, then a half-day should do it. If in an hour, then don't you just have a pill people can take? In the U.S., it seems, it always will take too much time.
By Lorri Freifeld In the land where dreams come true, Training 2013 Conference & Expo took attendees down new learning paths that stimulated the mind, challenged the body, soothed the soul—and dared us to attempt the impossible. Some highlights from the three-day conference held February 17-20 at the Walt Disney World Coronado Springs Resort in Orlando, FL:
>> Total Training Network (TTN), a learning management system (LMS) and online training provider, released its new Élan Enterprise Learning Platform. It provides on-screen flexible functionality using definable and movable "gadgets." >> Cloud-based technology solutions and consulting company KeyedIn Solutions launched a resource hub focused on Professional Services Organizations (PSOs). It provides free-to-download white papers and access to topical Webinars, a blog, and Twitter feed.
The annual global Talent Management Survey conducted by HR services provider NorthgateArinso (NGA) found that 87 percent of 1,119 businesspeople surveyed believe talent identification will be critical to the success of their organizations over the next three years. But more than half—51 percent—believe their industry suffers from a lack of suitable candidates. NGA offers three tips to HR practitioners to improve their talent management processes:
>> Led by CEO Bonnie Hagemann, Executive Development Associates launched Online Reference Check. The simple automated system provides objective, comprehensive feedback for employees, contractors, tenants, and more in three to five minutes. >> Porter and Chester Institute launched Career EDGE, an online career training tool that provides students with guidance in securing a job after completing their selected training programs. Career EDGE offers interactive resume building, interviewing tips, career search programs, and a video library of advice and information.
>>Convey Health Solutions, a specialty health-care business process outsourcing firm, selected Mzinga's OmniSocial Learning to power its internal employee collaboration, training and communication initiatives, and expand into a community for customer experience and support.