March / April 2013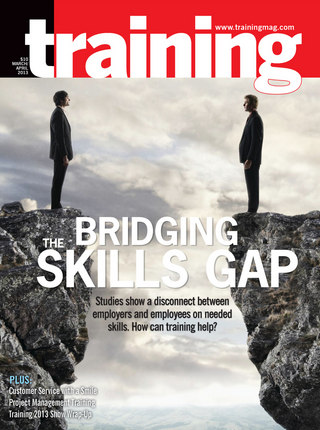 View Digital Edition
Employers want certain skills. Employees don't have them. Why? And what can organizations and Training, employees, and the educational system do to eliminate the disconnect?
Edited by Margery Weinstein Last year, Caesars Entertainment Corporation was facing stagnant customer service scores on weekly and quarterly surveys, the metric that determines success of customer loyalty and satisfaction. Each quarter and annually the organization strives for a 3 percent shift of non-A to A scores on customer service surveys year-over-year. Ingrained customer service behaviors helped keep the scores near the same level as the previous year, yet improvement to meet the goal of continuous improvement was becoming a challenge.
By Bob Pike CSP, CPAE, CPLP Fellow How long should training be? Almost every time I lead a seminar in the U.S. I get feedback that trainers are being pressured to deliver training faster. If, as a trainer, you believe it will take three days to develop the needed skills and knowledge, you're asked to deliver it in two. If it can be done in two, then do it in one. If one, then a half-day should do it. If in an hour, then don't you just have a pill people can take? In the U.S., it seems, it always will take too much time.
By Tony O'Driscoll Last month, I was sitting in a leadership development program listening to two talented executives share personal stories about how they had learned to lead. As they shared their leadership lessons with the participants, I noticed that one word kept coming up over and over again. That word was "CONTEXT." "Before I tell you this story, let me set some context," one said. "To understand why I made the decision I did, it is important for me to give you some more context," said the other.
By Stacey Harris, VP of Research, Brandon Hall Group
By Peter Post, Director, The Emily Post Institute Are companies really embracing social media? It appears so. The average midsize or large company (1,000 employees or more) has 178 "social media assets," according to the Business2Community Website. That means that, on average, 178 individuals are tweeting, blogging, or posting on behalf of their organizations on company social media outlets.
By Bruce Tulgan When it comes to the business of training, how do you make the business case for training?
By Marc Hequet Rob Bellmar sprinted for home, glancing over his shoulder to check for the throw. That's when he stepped on the bat in the base path and blew out his right quadriceps leg muscle. He learned something, though. About meetings. The softball injury last June meant that Bellmar, senior vice president at InterCall, had to phone in for a meeting a few days later, rather than attend in person.
>>Convey Health Solutions, a specialty health-care business process outsourcing firm, selected Mzinga's OmniSocial Learning to power its internal employee collaboration, training and communication initiatives, and expand into a community for customer experience and support.
By D'Anna Flowers, IT Training Manager, Accretive Health, Inc.