March / April 2016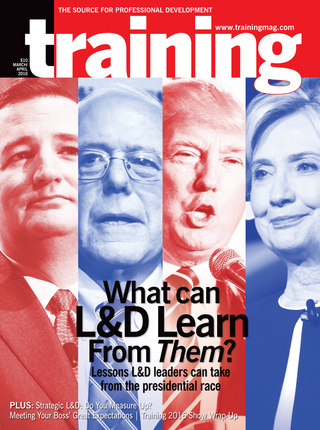 View Digital Edition
There truly was magic in the air—and learning opportunities everywhere—at the Training 2016 Conference & Expo held February 15-17 at Disney's Coronado Springs Resort.
With reams of multimedia content such as videos now easily available online, companies are combining ready-made and custom content to suit their training needs.
When training in developing regions, it's important to take cultural and geographic factors into account as you design and deliver the program to ensure it meets the diverse needs of each employee group.
Meeting your boss's expectations in the training programs you create requires material that teaches the lessons your employees need to learn to keep the company profitable. But it also includes cultivating an engaged workforce in the process.
With the presidential campaign in full swing, candidates are challenged to remain relevant, stay in the race, and advance their agendas in an environment overwhelmed by candidates. L&D leaders often experience the same challenges when engaging with the C-suite.