March / April 2016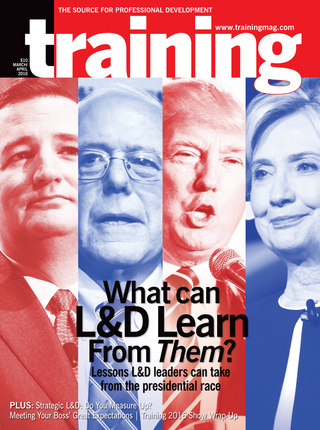 View Digital Edition
The latest products and services launching in the training industry.
Each year Training magazine requires all Training Top 10 Hall of Famers to submit an Outstanding Training Initiative that is shared with our readers in a print issue. Here are the details of KLA-Tencor's Meditation Workshop.
The key to successful training, whatever the topic, is to provide the "why" behind the advice given during the training.
Powerful principles for analyzing any performance problem.
One way I make sure a course has a solid pulse is to treat it with CPR—an evaluation of con­tent, participation, and revisit.
To move from organizational insanity to enterprise instancy, leaders must break existing orthodoxies by engaging the organization in experiences that reframe its limiting beliefs and change its restrictive behavior.
Three lessons that can help trainers understand the risks of directly replicating the same unconscious bias training program across cultural boundaries.
Training is in its infancy in Bolivia. Most training conducted is technical in nature, but there is a need for supervisory and leadership programs.
To transform the business practices of top accounts at your organization, consider co-creating Learning Academies with your customers.
There is a big assumption that mid-career leaders are experienced and come into a new organization knowing how to onboard, when in reality, onboarding is a make-it-or-break-it proposition and they need help.