Home
November / December 2011
November / December 2011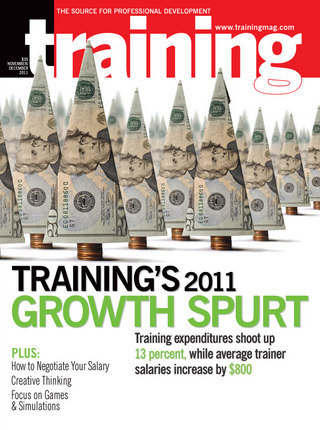 View Digital Edition
By Margery Weinstein A changing mindset combined with changing technology is driving the use of games and simulations, says Karl M. Kapp, a learning and technology expert and professor of instructional technology at Bloomsburg University in Bloomsburg, PA. "People are becoming more open to using games and simulations for learning, and, at the same time, the technologies are making the development of games and simulations easier and faster than a mere five years ago."
Kudos Inc. launched its peer-to-peer social recognition and employee engagement system. With this interactive system, team members and management can recognize one another for any act, effort, or attitude that supports their culture, values, or objectives.
By Margery Weinstein In an effort to continuously improve member service levels, AAA – The Auto Club Group faced a learning challenge: It needed a simulation that would address the specific service issues its customer-facing employees handle. The company decided the best way to meet this learning need was to develop its own custom simulation, says AAA – The Auto Club Group Vice President and Chief Learning Officer Daniel Hill.
Turning Technologies, LLC, released two new complementary products: ResponseCard NXT, an advanced radio frequency LCD keypad, and TurningKey, self-paced assessment software. TurningKey allows speakers to create digital answer keys for new or existing tests or quizzes and deliver the self-paced summative assessments to participants using ResponseCard NXT.
By Margery Weinstein When Cox Enterprise's Cox Leadership Program (CLP) needed an action-learning simulation to support its curriculum, the company turned to PressTime, a computer-driven behavioral simulation created and distributed by Discovery Learning. After observing the simulation at a company in Canada, Susan Edwards, Cox's business effectiveness and executive development consultant, decided it met the leadership program's learning objectives.
Some 310 training professionals gathered at Training's first Learning 3.0 Conference in Chicago last month to discover the industry's next transformation and how it will affect their organizations. They heard from innovative thinkers on topics such as "When Games Invade Real Life and Gamify Work," "Leveraging Social Media to Change the Enterprise," "How the Brain Science of Attention Will Change the Way We Learn," and "Cultivating the Imagination: Building Learning Environments for Innovation."
A common misunderstanding of "informal learning" is that it can't be intentionally designed, implemented, and measured. It can, in the form of Performance Support. 
Starting a corporate mentoring program can seem like a huge task, and for that reason alone, many organizations simply don't do it. They talk themselves out of it and rationalize that the "informal" mentoring taking place organically in the organization is enough. But it's not. Here are 10 tips to help you get your program off to a successful start:
By Lyrae Myxter, Director, Executive Services, Aperian Global Once an agricultural society, Italy has developed into one of the world's leading industrial economies since World War II. It ranks eighth in nominal GDP, is a member of the G8, and a founding member of the European Union.
By Neal Goodman, Ph.D., President, Global Dynamics, Inc.