Home
November / December 2011
November / December 2011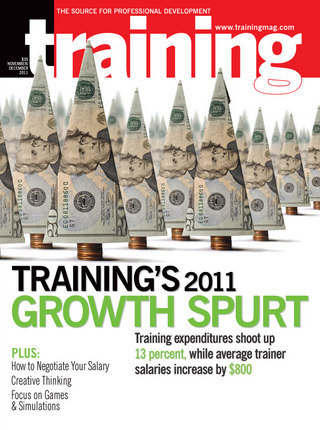 View Digital Edition
Starting a corporate mentoring program can seem like a huge task, and for that reason alone, many organizations simply don't do it. They talk themselves out of it and rationalize that the "informal" mentoring taking place organically in the organization is enough. But it's not. Here are 10 tips to help you get your program off to a successful start:
By Lyrae Myxter, Director, Executive Services, Aperian Global Once an agricultural society, Italy has developed into one of the world's leading industrial economies since World War II. It ranks eighth in nominal GDP, is a member of the G8, and a founding member of the European Union.
By Neal Goodman, Ph.D., President, Global Dynamics, Inc.
By Tony O'Driscoll, Executive Director, Center for Technology, Entertainment and Media, Duke University's Fuqua School of Business To mark the 35th anniversary of the Training Conference & Expo, at Training 2012, our aspiration is a simple but audacious one: to take what we know about what works and what does not in driving human performance and to apply it in a way that allows everyone to achieve their utmost potential.
By Bob Pike Will you be working for the same company a year from now? How about two? Will you make it five? Do you have a guarantee? And look back at your career up to now. How many companies have you worked for? More than one major business publication recently published articles about the passing of the era of company loyalty. The notion that people can have lifelong careers at the same company doesn't seem to work in today's economy.
By Roy Saunderson Are there really benefits to using rewards and recognition through games to help individuals learn more effectively? There is a lot of talk about gamification today and how we can use it in business—with consumers, as well as with our employees. But what about learning?
By Don Kirkpatrick Trainingmagazine graciously asked me to write the final Last Word column for 2011 in view of my 50-plus years as a training professional, my creation of the Four Levels of Evaluation, and my recent retirement. Much has happened through these last 50 years.
Global research performed by the HPO Center in The Netherlands shows that many organizations make the wrong choices when undergoing a reorganization. Cuts are made in the wrong projects, poorly performing employees stay in place, and the organization focuses mainly on internal cost savings. The HPO Center surveyed the most important qualities needed to be and remain successful at more than 1,400 organizations in 50 countries. Results showed that five success factors give organizations the right focus in a reorganization:
Last month, I regretfully had to have a 70-foot-tall, stately maple tree removed from my front lawn. Unfortunately, it had fallen victim to a condition called girdling roots, in which the roots grew around the base of the trunk and choked off vital nutrients and water. A few weeks later, I noticed a hint of green peeking out from the mound of mulch. I cleared away the dirt and found a small sprout growing in the spot.
By Jason W. Womack, MEd, MA Productivity often is measured by output. What project did you finish? What product did you ship? At this time of the year, measure differently. Much of what you completed this year was dependent on the people in your (extended) networks. Beyond Facebook friends and LinkedIn contacts, these are people who influence goals and priorities and help you get things done.