Home
November / December 2014
November / December 2014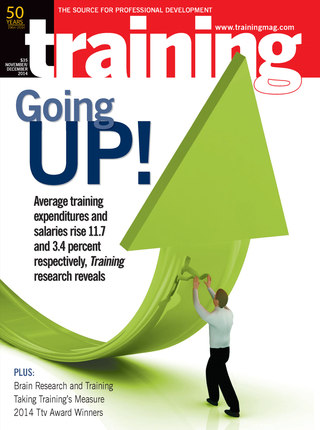 View Digital Edition
Training magazine taps 2014 Training Top 125 winners and Top 10 Hall of Famers to provide their learning and development best practices in each issue. Here, we look at SunTrust Banks' PATHways certificate program.
Learning management systems should be in the business of managing learning"; however, the LMS domain remains largely centered on authoring, managing, and delivering courses and content.
Attendees learned how to marry the power of emotion and the thrill of technology to keep learners coming back for more at the 2014 Online Learning Conference in Chicago.
Motivating your employees to learn is easier when you understand how their brains work.
Measuring learning means going beyond simple assessments to get a full view of your employees' mastery.
Average training salaries rise by 3.4 percent in 2013-2014.
Training magazine's exclusive analysis of the U.S. training industry, featuring 2014 training expenditures, budgetary allocations, delivery methods, and training priorities.
The U.S. knowledge-based economy requires a new talent-creating financial metric that appears as an investment on a balance sheet, so that businesses can track the impact of training and education investments on both short- and long-term profits.