Home
November / December 2014
November / December 2014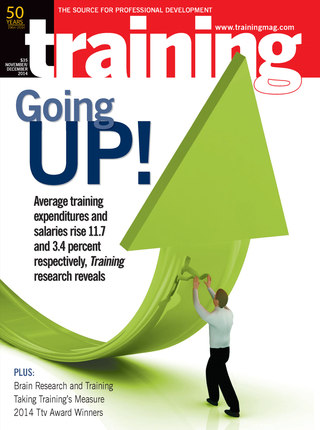 View Digital Edition
The economy has improved, but it's going to take more than circumstance to stay ahead. Get your team back to the basics with these five easy steps.
Leaders need to focus on facilitating the process of people getting to know one another because it is difficult to trust someone you don't know.
Find out about the latest advances in training technology.
Sometimes it feels as if there are not enough hours in the day to get things done. How does one manage to complete daily work tasks without feeling overwhelmed? Here are three tips to help employees seize the day and their daily to-do list.
The latest training industry mergers, acquisitions, partnerships, and more.
One of the greatest challenges in providing leadership/management training is that most experienced managers severely overestimate their own leadership effectiveness.
Sales Progress (Training Reinforcement Partner Company) and Training magazine surveyed 500-plus managers to discover attributes that make employees perform at their optimal level. Attitude was the top attribute (64 percent), while willingness to invest time in their own learning came in second at 43 percent.
Often, a little luck is all you need to succeed, and that doesn't require a lot of magic. It just takes a little forethought to set the stage for good things to happen.
I'm sure you've endured training sessions that made you want to rip your eyeballs out—or more accurately, the eyeballs of the person leading the session. And I'm guessing when you conduct your own training, you don't want people clawing at your eyeballs.
I'm writing about my experience at the relaunch of the Turtle Bay Resort in Oahu, HI, because it emphasized for me once again the power of our mantra: Training Matters.