Home
November / December 2014
November / December 2014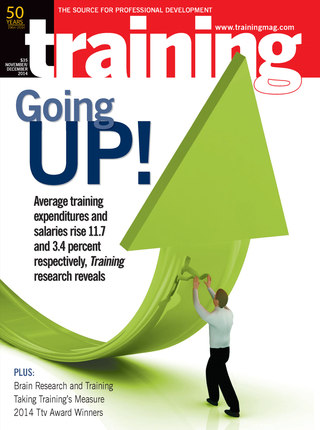 View Digital Edition
The latest products and services launching in the training industry.
Training magazine announces the finalists for the 2015 Training Top 125 list of leading organizations that excel at employee development. Rankings will be revealed at the Training 2015 Conference & Expo, February 9-11 in Atlanta, GA.
Strip away the layers and get back learning basics.
Lessons we can learn from studies of our amazing brain.
What to keep in mind when you hire a training or performance consultant.
Next-generation leaders need to work on the space between their ears to learn a new set of ABCs so they may boldly go where no one has gone before.
Use the performance consulting process to achieve business results and maximize the performance of people.
Preparing new graduates to work in your organization.
Training typically is held off site at resorts, and in hotels in San Jose, the capital of Costa Rica.
When thinking about blended learning, don't just think about the "class." Think about the full program, which includes the experience that will make the learning stick.