Home
November / December 2017
November / December 2017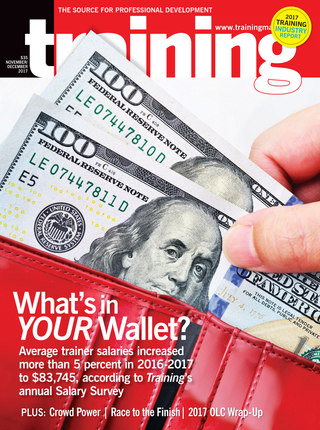 View Digital Edition
A series of tragic events—ranging from mass shootings to natural disasters such as hurricanes, wildfires, and earthquakes—have rocked the world recently, and my heart aches for all those who suffered the loss of family and friends. But many other lives were saved—by the bravery, grit, and, yes, training of the people on the scene.
Each year Training magazine requires all Training Top 10 Hall of Famers to submit an Outstanding Training Initiative that is shared with our readers in a print issue. Here are the details of SCC Soft Computer's GROW to the Top program.
Training magazine taps 2017 Training Top 125 winners and Top 10 Hall of Famers to provide their learning and development best practices in each issue. Here, we look at Deloitte's gamification platform, Edward Jones' recruitment strategies; and Learning and Development's role in cultivating company culture at Mariner Finance.
Known for its creative spark, New Orleans served as the perfect backdrop for OLC's out-of-the-box learning experiences.
Getting more done faster is easier when employees have a Learning team that knows what they need to get high-quality work done on time.
Collaborative approaches to problem solving are becoming more common. Technology and a new approach to management are making it easier to work together to meet challenges.
Average trainer salaries increased more than 5 percent in 2016-2017 to $83,745, according to Training's annual Salary Survey.
Now in its 36th year, Training magazine's Training Industry Report is recognized as the training industry's most trusted source of data on budgets, staffing, and programs. Total 2017 U.S. training expenditures rose significantly, increasing 32.5 percent to $90.6 billion, according to this year's report.