Home
November / December 2019
November / December 2019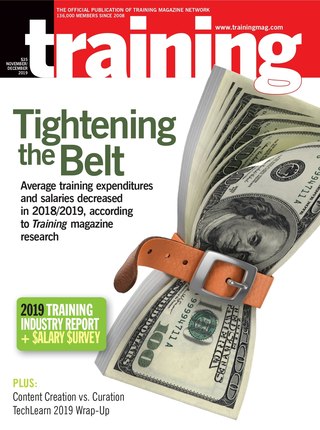 View Digital Edition
Evidence suggests that those who need training in complex technical topics are far better served by instruction that involves actual instructors and routine human interaction than by training that omits timely personal assistance.
Find out about the latest advances in training technology.
Outgroups can form based on a social, political, or ethical position or because of Social Identity Theory (SIT), which happens when individuals can't identify with the beliefs, norms, and values of the primary group members or leader and feel they are being excluded.
The latest products and services launching in the training industry.
The latest training industry mergers, acquisitions, partnerships, and more.
What do you think would happen if every manager had the discretion, the ability, the skill, and the gumption to start negotiating with employees as if they were outside vendors? 
Ensure that for each task you check off a list, you also serve the communities in which you work, love, and live to the best of your ability. 
Newly promoted employees often have a hard time turning new skills into automatic habits required for reliable execution in the new role, according to a new study of 1,420 people by leadership training company VitalSmarts. 
Some 46% of employees believe their employer penalizes them for not having certain skills on the job, according to the new 2019 Future of Work and Employee Learning report from customer experience management company Sitel Group.
Sometimes we need training to be functional rather than cool.