Home
November / December 2019
November / December 2019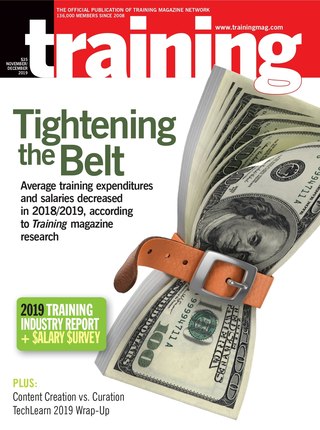 View Digital Edition
Are you doing work that you're proud of and your audience finds value in? If not, are you able to change the circumstances to get there?
When presented with a choice between two options, we're tempted to think "this or that." But with creating or curating, the best option is to think "and" instead of "or."
Take a lesson from e-learning: Reuse and repurpose learning content and processes—and your training skills.
Successful organizational transformation requires an empathic, people-centered approach to change that nurtures a culture of aspiration, alignment, autonomy, and accountability.
Technology will play an oversized role in learning in 2030. But so will human teachers, peers, families, and communities at large. Together, we will need to evolve from us learning about technology to technology learning about us.
Best practices that will enhance international employee engagement, success, and profitability.
Tell us about yourself and your role at CompTIA?
The applications that most interest me in the workforce digitization space are those that enable guided learning, immersive situations, and employee engagement strategies.
Less than 30 percent of U.S. employees say they are loyal to their company, according to the Ipsos Loyalty Study.
Three factors that are the keys to success in client and vendor roles in a project.