Home
September / October 2011
September / October 2011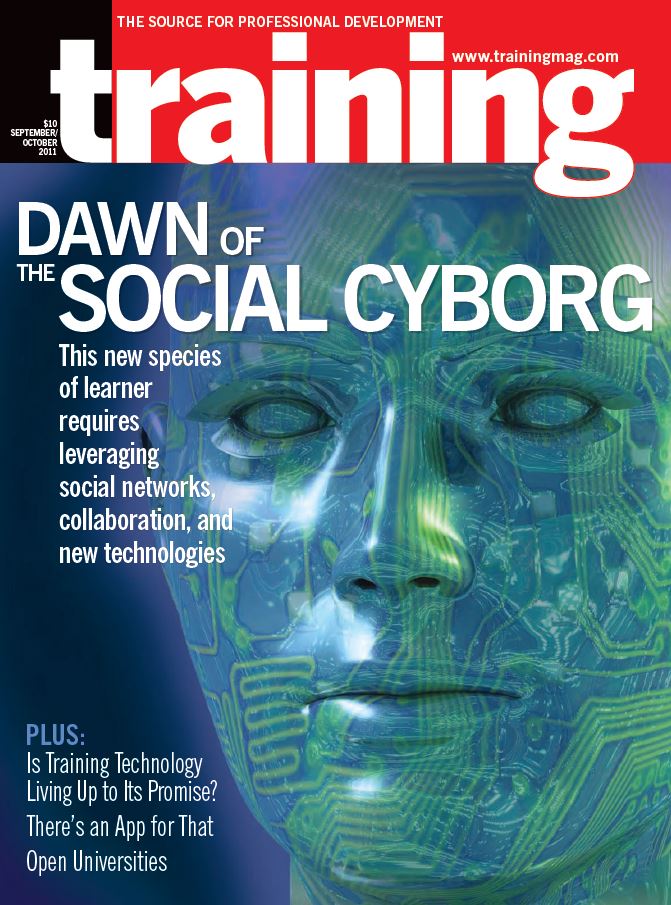 By Neal Goodman, Ph.D., President, Global Dynamics, Inc. All too often, companies invest in the professional development of their workforce only to lose that investment after employees leave (or when they simply forget what they learned). According to Ernst & Young, 44 percent of employees are "poor or very poor" at transferring knowledge.
Even under the best of circumstances,nearly 70 percent of all change initiatives fail. And that's why most organizations never realize the benefits they hoped for with their new culture change, software implementation, or training initiative. While there are many documented reasons why change initiatives fail, the overriding reason is that change sponsors do not involve or address the concerns of the people affected by the change.
By Tony O'Driscoll, Executive Director, Center for Technology, Entertainment, and Media (CTEM), Duke University's Fuqua School of Business For the last 35 years, the training community has toiled tirelessly to better understand how to maximize human performance. During that time, we have learned a lot about what works—and what doesn't—when it comes to leveraging human capital to drive business results.
Panopto Inc.launched Panopto Focus 4.0 and Panopto Unison, the next generation of end-to-end video and multimedia capture and management Web service solutions. Both solutions provide a video and multimedia search, editing, and viewing experience from any desktop or mobile device. Panopto Focus 4.0 brings lecture capture, while Panopto Unison improves asset management by enabling users to upload existing recordings to their Panopto libraries.
By Bob Pike Which is more important to the training and performance professional: speaking or listening? Please…right now…before you read on…think of your answer in this moment…then write it down. Have you done that? I hope so. You'll gain more from this article if you did.
By Roy Saunderson, President, Recognition Management Institute Are we ready to train employees through iPods? Some organizations already do so with great success. Yet there are important principles to consider in getting mobile learning right. In the fast-moving world we live in, we stay connected through a growing number of mobile devices we're glued at the hip to. Now imagine having training follow you around and be available whenever you are ready to learn.
By Peter Post, Director, The Emily Post Institute It's happened over and over again:
By Tim Hagen, President, Sales Progress
By Margery Weinstein Coming up with the latest and greatest learning curriculum for employees year after year can be overwhelming—especially if you work for a small or mid-size company with minimal resources. Fortunately, there is a burgeoning trend that three-time No. 1 Top 125er PwC is helping to "open" up. In creating PwC Open University, the professional services firm has opened up its vault of training materials, including 150 courses, a growing number of which are CPE accredited.