Home
September / October 2012
September / October 2012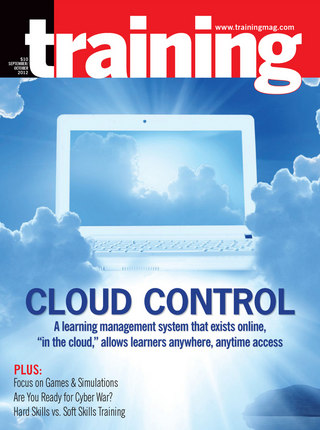 View Digital Edition
By Lorri Freifeld Companies such as FedEx, The Hartford, and Union Pacific offer some of their leaders the opportunity to climb Mt. Everest. But the trek does not require parkas, ice axes, or karabiners. Nor will participants feel the least bit cold. They must, however, make life-and-death decisions about who gets how much oxygen, correctly calculate the weather when the weather station is knocked out, and determine what to do when one of the team begins to experience hypothermia.
By Margery Weinstein When Medtronic, Inc., a Minneapolis-based provider of medical technology, needed a way to give high-potential employees a sense of teamwork under pressure, it turned to simulation technology. The company incorporated a team-based leadership simulation from Enspire Learning into its Emerging Leader Program (ELP) that creates insights on personal leadership styles. It also allows emerging leaders to practice cross-functional teamwork that deals with ambiguity under time pressure, communication across the enterprise, and making strategic trade-offs.
By Kendra Lee Technology provides a cost-effective, fun way to stay in front of your participants with key content reminders after the training is over. We've added technology-based reinforcement to all our training programs, and our clients have reaped big rewards. For one organization's sales prospecting program, we used a combination of e-mail and video follow-up. One year later, prospecting continues to be a habit for the whole sales force, driving new customers and revenue for the company.
By Tita Beal What if you lack the funds, time, and software to produce a multimedia training extravaganza…but you want the excitement of a video game for your learning program? An engaging onsite simulation can be created with a cell phone attached to a talented actor and a solid storyline. The Training Need
By Tony O'Driscoll Relationships, Reach, and Robots. These three discrete words may have a particular meaning to each of us prior to attending Learning 3.0, but after the conference, I hope they mean a whole lot more to those of us who spend our days designing, developing, and delivering learning.