Home
September / October 2012
September / October 2012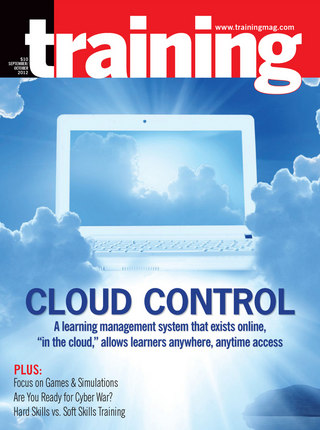 View Digital Edition
By Kendra Lee Technology provides a cost-effective, fun way to stay in front of your participants with key content reminders after the training is over. We've added technology-based reinforcement to all our training programs, and our clients have reaped big rewards. For one organization's sales prospecting program, we used a combination of e-mail and video follow-up. One year later, prospecting continues to be a habit for the whole sales force, driving new customers and revenue for the company.
An actor, a cell phone, and a solid storyline lead to an engaging onsite, in-person simulation to improve customer service.
By Tony O'Driscoll Relationships, Reach, and Robots. These three discrete words may have a particular meaning to each of us prior to attending Learning 3.0, but after the conference, I hope they mean a whole lot more to those of us who spend our days designing, developing, and delivering learning.
By Bob Pike CSP, CPAE Often in this space I write about "excellence"—what it takes for trainers to shine at what we do. I meet thousands of other trainers every year who, like you and me, always look for ways to be incrementally better at our work, to be like the professional baseball players who get three hits out of every 10 times at bat instead of 2.75 times out of 10. (The difference in pay between these two, by the way, is about $10 million per year!)
By Dr. Neil Orkin Peru is a country with tremendous natural resources, especially metals such as gold and copper. It is a land famous for the advances of the Incas, who had one of the most sophisticated cultures the world has known. With a population of 29 million and a location next to one of the fastest-growing economies in the world, Brazil, Peru is a land global organizations need to watch.