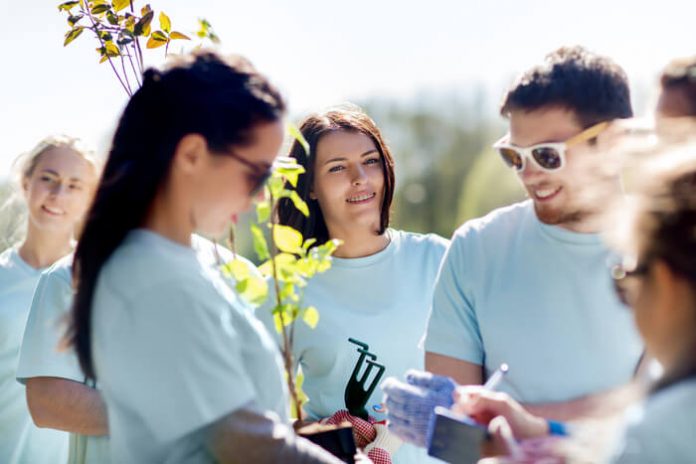 Volunteers provide hands-on assistance with charitable projects and programs, giving your nonprofit and community the ongoing support they need to thrive. Volunteer time is so valuable that an hour of volunteer work is estimated to be worth $29.95.
The key to unlocking the true potential of your volunteers is an effective training program. Empowering volunteers with the skills and resources they need to excel in their roles sets them up for success. Plus, a positive training experience encourages volunteers to stay involved with your organization long-term, leading to an increased volunteer retention rate.
Review these six tips for setting up a successful volunteer training program:
Set training goals.
Create a warm welcome for new volunteers.
Focus on hands-on, practical training.
Make your training accessible.
Track volunteers in a database.
Ask for feedback.
Just as you work to engage your donors or customers, you should also prioritize building strong relationships with nonprofit or corporate volunteers. Starting your volunteer program off on the right foot with an engaging training program sets the tone for a positive volunteer experience.
1. Set training goals.
Setting objectives for your volunteer training program keeps your planning process focused and on target. When you have a clear goal, it's easier to decide what you want to prioritize in your training.
Consider setting the following goals:
Internal goals for your team to track. Set goals and relevant metrics to track throughout the training process. For example, you might set a goal to improve your actual attendance rate vs. RSVPs and boost your volunteer training satisfaction rate. Then, you'll want to track data such as training attendance and volunteer survey responses.
Goals for your volunteers. Let volunteers know the goals and intended outcomes of your training program ahead of time. For instance, maybe the goal of your training session is to get volunteers up to speed on how to use your food packaging equipment or how to input data into your native plant database. This lets volunteers know what to expect from the training process.
Specific objectives for each volunteer role or responsibility. Your volunteer training might cover multiple volunteer roles or responsibilities that different groups will fulfill. Make sure your training addresses specific goals and tasks for each volunteer role.
Communicating clear expectations to both your team members and volunteers ensures everyone is on the same page throughout the training process. Your goals can change over time from session to session as your program grows and evolves. Use your metrics to determine whether your goals are too ambitious or not ambitious enough, and adjust as needed.
2. Create a warm welcome for new volunteers.
First impressions are everything. Creating a positive first impression through your training process leaves volunteers feeling motivated and ready to continue supporting your cause.
Foster an inviting atmosphere by:
Thanking volunteers for signing up. Thank volunteers for their support after they register and at the start of your training session. Fundraising Letters offers tips for writing an impactful volunteer thank you a letter, including making sure you address each letter with volunteers' names and referencing any past involvement the volunteer has had with your organization.
Offering clear instructions for the details of the volunteer training process. After volunteers register for training, let them know the date, time, and location of your training session. If your training is held right before your volunteers' first shift, let them know when to arrive, so they don't miss the training portion.
Letting volunteers know how to contact you. Provide the name and phone number or email address of the team member that volunteers can contact if they have questions.
A fulfilling training experience leads to more satisfied volunteers and can encourage current volunteers to share their positive experiences with family members and friends. This can support your volunteer recruitment, helping expand your efforts to a wider audience.
3. Focus on hands-on, practical training.
Your training process should give participants a realistic understanding of the tasks they will complete as a volunteer. This is especially important if you only host one training session or your training is right before the volunteer shift.
Helping volunteers develop practical skills can also be useful for corporate volunteer programs. Your training sessions can act as professional development opportunities, helping employees practice or advance specific skills. Plus, skills-based training can help get new employees up to speed faster while fostering a positive onboarding experience.
Make your training useful for volunteers by incorporating the following tips:
Have volunteers role-play or work in small groups. Have participants act out scenarios they might encounter while volunteering or work in small groups to practice using your equipment. This makes your training more engaging for volunteers and appeals to the tactile learners in the group.
Encourage volunteers to ask questions as they go. Make sure volunteers feel comfortable voicing questions and concerns. Check-insw2 throughout the training session to answer questions before moving on to the next activity.
Offer a training guide volunteers can refer to at any time. Create a printed volunteer guide with basic information that volunteers can reference during the training process. Your guide should include your volunteer code of conduct, role information, and contact information for relevant staff members.
A thorough, practical training program ensures that volunteers can hit the ground running when their first shift begins. Volunteers will feel much more comfortable taking on their roles and ready to make a positive social impact.
4. Make your training accessible.
Making your volunteer training program and opportunities accessible helps create an equitable, inclusive experience. Prioritizing accessibility opens your volunteer program to a wider range of passionate supporters.
Create an inclusive training experience by:
Providing accommodations as needed. Your volunteer registration form should include an option for volunteers to list any accommodations they may need. These accommodations might include sign language interpretation, video captions, or large print informational packets.
Offering online training, if possible. Online training won't be feasible for every volunteer program. However, if you offer virtual volunteering or if your training is short and sweet, consider offering it online. Virtual training gives volunteers the flexibility to choose the time that works best for their schedules.
Scheduling your training for times that work best for volunteers. Use your pre-training survey to ask volunteers about the days of the week and times that work best for them to attend training.
Volunteers will appreciate your efforts to make your training process open to all. Plus, when you work with volunteers' needs, you'll be more likely to retain their support.
5. Track volunteers in a database.
If you work at a nonprofit, you likely track donor information in a donor management software system. You use this solution to keep track of donors' personal information and past interactions with your organization, allowing you to identify your most engaged supporters.
You can also use donor management software and other nonprofit databases to track volunteer information. For example, with Bloomerang's donor management software, you can track volunteers and donors in the same system.
Keeping track of volunteer information allows you to note volunteers' preferences, availability, and other information that will help you plan well-attended volunteer training sessions. Use your database to track volunteer data such as:
Basic information like volunteers' contact information and home addresses
Volunteer or donation history
Communication history, including messages they've responded to
Event attendance
Personal information such as birthdays, employer data, etc.
You can also use your database to track where volunteers are in the training process and note which volunteers are ready to sign up for their first shift but haven't yet. You can send follow-up messages to these individuals, encouraging them to sign up and get involved.
6. Ask for feedback.
Gathering feedback on your training process helps you understand how you should adjust your program in the future to be even more useful. Plus, sending volunteer surveys gives supporters a chance to make their voices heard, showing that you're dedicated to incorporating their input to create the best experience possible.
In your post-training volunteer survey, ask questions like:
How did you hear about our volunteer opportunities? This can be a multiple-choice question with options like social media, email, a flyer, a recommendation from a friend, etc.
How effective was our volunteer training program? Offer a range of options, including "highly effective," "somewhat effective," "somewhat ineffective," and "not effective."
What would you change about the volunteer training? This can be a short-answer question.
Would you recommend our volunteer program to a friend? This can be a yes or no question. You should also allow volunteers to expand on their answers, so you know why they're saying yes or no.
Follow up with volunteers after all survey responses are in to summarize the results and, when applicable, tell them how you'll be incorporating their feedback moving forward.