Home
January / February 2020
January / February 2020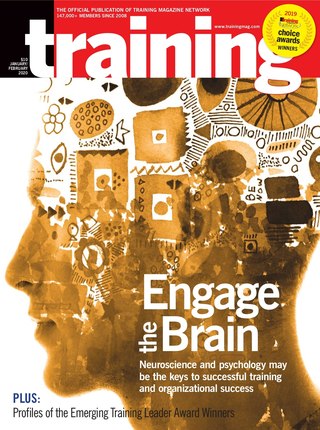 View Digital Edition
Succession planning is a bit like shooting skeet, in that you have to aim ahead of where the target is moving if you want to be able to hit it.
A case study from the insurance industry demonstrates the challenges of combining soft skills training with e-learning.
If you blame others and make excuses when things go wrong, rather than immediately focusing on your role in the problem and what you can do to contribute to the solution, then you arre acting like a jerk at work. 
All of us are in a position to influence someone. Here are three things do to become a more influential servant-leader.
Find out about the latest advances in training technology.
The tech industry will lead in onboarding and professional training in 2020, according to executives from BenchPrep, a cloud-based learning platform for nonprofits, corporations, and training companies.
The latest products and services launching in the training industry.
The latest training industry mergers, acquisitions, partnerships, and more.
Nearly 6 in 10 Americans would rather stay at a job they disliked than go out and interview for a new one, according to a study of 2,000 respondents conducted by OnePoll on behalf of MOO.
We can look forward to seeing greater traction with virtual reality (VR) in training toward the end of 2020 or possibly the year after.