Home
January / February 2020
January / February 2020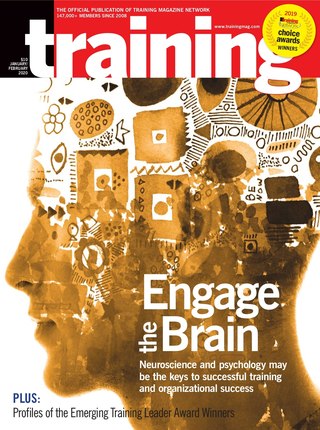 View Digital Edition
Mergers and acquisitions (M&A) require a significant organizational change. So early success factors are best measured by the integration of people and processes.
What are you working on right now? Is your training or content making a difference—a real difference?
What it takes to encourage and grow emerging training leaders in your company.
Axiology teaches us the difference between composition—adding something to make a thing more valuable—and transposition—taking something away and thereby making the thing less valuable.
The primary way L&D can make an impact in this age of automation and AI is by leading what either is now (or soon will be) a massive need for upskilling and reskilling.
Removing the resistive forces to change by reducing learning anxiety is the key to unlocking the discretionary effort of your people to maintain the viability and vibrancy of your business.
In my 50-plus years of teaching and running a global training organization, I have learned from some of the smartest people in our field and built lifelong friendships with clients and colleagues from vastly different backgrounds.
Just as the strength of a currency depends on its buying power, the strength of a certification depends on its ability to open doors to jobs and promotions.
Vans, busses, trucks, and trailers are hitting the road with EdTech experiences.
Most of us are overtrained in intellect and undertrained in creative thinking—at least at work. But no matter our background and training, we can flex these underused creative muscles.