July / August 2013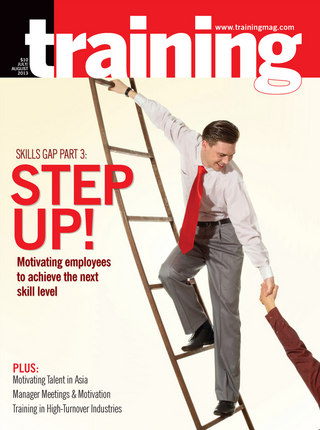 View Digital Edition
By Anne Dranitsaris, Ph.D., and Heather Dranitsaris-Hilliard. There's a difference between interest and commitment. When you're interested in doing something, you do it only when circumstances permit. When you're committed to something, you accept no excuses, only results.—Art Turock
By Frank Waltmann, Ph.D.,Head, Corporate Learning, Novartis This is the second of a three-part series of articles written exclusively for Trainingmagazine on business challenges and opportunities in Asia and how Swiss-based pharmaceuticals and life sciences company Novartis' learning and development programs are helping address the myriad issues.
>> Cornerstone OnDemand introduced Universal Profiles, which aggregates user information and activities from within the Cornerstone talent management system; a new, redesigned Cornerstone Connect social collaboration platform; new social performance and employee recognition tools; and expanded native mobile functionality across the suite.
By Joseph Grenny, Co-Founder, VitalSmarts, and Co-Author, "Change Anything"
>>Leadership IQ developed a new HR metric that links employee engagement survey scores with performance appraisal ratings. By identifying statistical relationships between engagement and appraisal scores, Leadership IQ is able to make predictions and recommendations about high-performer turnover, low-performer accountability, middle- performer development, and more.
>> Capital Analytics, a consultancy specializing in human capital measurement, partnered withEdLink, a provider of tuition assistance program management services. Together, they will demonstrate the impact tuition assistance programs are having on corporations' bottom lines.
Research by the Temkin Group has uncovered several best practices for building employee engagement. The firm calls them the Five I's of Employee Engagement:
By Jason W. Womack, MEd, MA A productive leader knows the importance of effective delegation. Here are two delegation tips to make the process smoother and more efficient:
By Sebastian Bailey, Ph.D., President, Mind Gym, Inc.