July / August 2013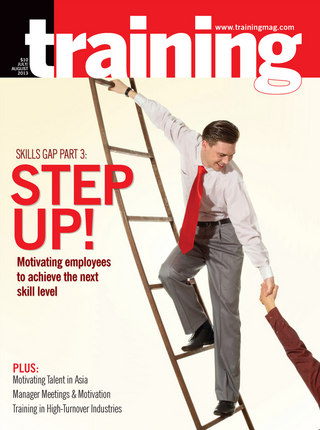 View Digital Edition
By Anne Dranitsaris, Ph.D., and Heather Dranitsaris-Hilliard. There's a difference between interest and commitment. When you're interested in doing something, you do it only when circumstances permit. When you're committed to something, you accept no excuses, only results.—Art Turock
By Marty Nowlin,Vice President, Human Resources - North America, ManpowerGroup We are living in a time when the world of work is changing, when the only thing we can be certain of is uncertainty. These changes have affected the workplace and have led to the evolution of what we today call The Human Age.
By Jason W. Womack, MEd, MA A productive leader knows the importance of effective delegation. Here are two delegation tips to make the process smoother and more efficient:
By Ross Tartell, Ph.D.,Technical Training and Communication Manager – North America, GE Capital Real Estate Business spends billions of dollars on training—more than $55 billion in 2012 alone, according to Trainingmagazine's 2012 Industry Report. But does this enormous investment produce the desired results? Many would say no, a perception buttressed by the fact that 80 percent of training content is not applied to the job.
Research by the Temkin Group has uncovered several best practices for building employee engagement. The firm calls them the Five I's of Employee Engagement:
By Roy Saunderson, Chief Learning Officer, Rideau's Recognition Management Institute It's true: People aren't always motivated to learn. Our challenge each day is to make learning and our instructional materials and content as meaningful as possible for many people in the workplace. Yes, a tall order, but one that has rewarding benefits when we are successful.
By Karl M. Kapp, Ed.D, Professor, Instructional Technology, Bloomsburg University You just got the news. You need to create an instructional game to teach an important topic within your organization. One thought flows through your mind: "What do I do first?" It's followed by "What do I do second?" Quickly, you discover you are not really sure what it takes to create an instructional game. No problem, here are four suggestions for getting started.
>> Capital Analytics, a consultancy specializing in human capital measurement, partnered withEdLink, a provider of tuition assistance program management services. Together, they will demonstrate the impact tuition assistance programs are having on corporations' bottom lines.
By Bob Pike, CSP, CPAE, CPLP Fellow One of the main purposes of any training program is for participants to leave feeling better about themselves—impressed with what they now know that they didn't know before, and what they now can do that they couldn't do before. But we often overlook the affective domain: Do participants leave with a greater feeling of confidence that they can apply what they now know in the real world?