July / August 2013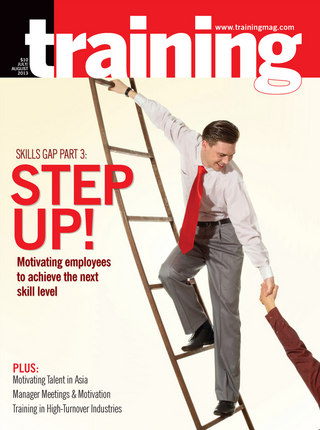 View Digital Edition
By Anne Dranitsaris, Ph.D., and Heather Dranitsaris-Hilliard. There's a difference between interest and commitment. When you're interested in doing something, you do it only when circumstances permit. When you're committed to something, you accept no excuses, only results.—Art Turock
By Karl M. Kapp, Ed.D, Professor, Instructional Technology, Bloomsburg University You just got the news. You need to create an instructional game to teach an important topic within your organization. One thought flows through your mind: "What do I do first?" It's followed by "What do I do second?" Quickly, you discover you are not really sure what it takes to create an instructional game. No problem, here are four suggestions for getting started.
>> Capital Analytics, a consultancy specializing in human capital measurement, partnered withEdLink, a provider of tuition assistance program management services. Together, they will demonstrate the impact tuition assistance programs are having on corporations' bottom lines.
By Bob Pike, CSP, CPAE, CPLP Fellow One of the main purposes of any training program is for participants to leave feeling better about themselves—impressed with what they now know that they didn't know before, and what they now can do that they couldn't do before. But we often overlook the affective domain: Do participants leave with a greater feeling of confidence that they can apply what they now know in the real world?
>>Leadership IQ developed a new HR metric that links employee engagement survey scores with performance appraisal ratings. By identifying statistical relationships between engagement and appraisal scores, Leadership IQ is able to make predictions and recommendations about high-performer turnover, low-performer accountability, middle- performer development, and more.
By Tony O'Driscoll, Executive Director, Duke Corporate Education
By Joseph Grenny, Co-Founder, VitalSmarts, and Co-Author, "Change Anything"
By Carol Patton Employee disagreements happen in any workplace. But some employees routinely don't see eye-to-eye with their supervisor. Whether the boss is overly aggressive, disrespectful, lackadaisical, or simply a poor manager, not many employees dare to approach him or her to address their concerns.
>> Cornerstone OnDemand introduced Universal Profiles, which aggregates user information and activities from within the Cornerstone talent management system; a new, redesigned Cornerstone Connect social collaboration platform; new social performance and employee recognition tools; and expanded native mobile functionality across the suite.
By Margery Weinstein A recent Columbia University Business School study found that people who rely on their feelings and intuition make more accurate predictions and do better at their jobs. But it's not as easy as it sounds. Training can help, particularly in teaching people how to slow down, increase self-awareness of internal energy processes, and find their connection to the world and the universe around them.