July / August 2013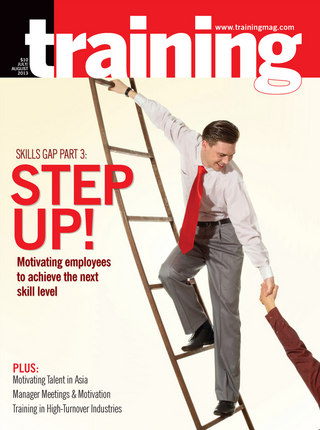 View Digital Edition
By Anne Dranitsaris, Ph.D., and Heather Dranitsaris-Hilliard. There's a difference between interest and commitment. When you're interested in doing something, you do it only when circumstances permit. When you're committed to something, you accept no excuses, only results.—Art Turock
By Carol Patton Employee disagreements happen in any workplace. But some employees routinely don't see eye-to-eye with their supervisor. Whether the boss is overly aggressive, disrespectful, lackadaisical, or simply a poor manager, not many employees dare to approach him or her to address their concerns.
>> Cornerstone OnDemand introduced Universal Profiles, which aggregates user information and activities from within the Cornerstone talent management system; a new, redesigned Cornerstone Connect social collaboration platform; new social performance and employee recognition tools; and expanded native mobile functionality across the suite.
By Margery Weinstein A recent Columbia University Business School study found that people who rely on their feelings and intuition make more accurate predictions and do better at their jobs. But it's not as easy as it sounds. Training can help, particularly in teaching people how to slow down, increase self-awareness of internal energy processes, and find their connection to the world and the universe around them.
CAREER DEVELOPMENT By Sean Ramage, AVP, Talent Management, CarMax CarMax is the nation's largest retailer of used cars. Headquartered in Richmond, VA, we operate more than 120 used car superstores across the country and have sold more than four million cars. CarMax is a member of the Fortune 500 and a TrainingTop 125 winner.
By Frank Waltmann, Ph.D.,Head, Corporate Learning, Novartis This is the second of a three-part series of articles written exclusively for Trainingmagazine on business challenges and opportunities in Asia and how Swiss-based pharmaceuticals and life sciences company Novartis' learning and development programs are helping address the myriad issues.
By Margery Weinstein Finding the right employees is a daunting task. It includes hours spent poring over resumés and much time spent on the phone and in face-to-face interviews with candidates, not to mention what sometimes amounts to months of training. The investment made in recruitment and training easily adds up to thousands of dollars for each new employee. With so much at stake, many companies—especially those in industries susceptible to turnover—are looking for new ways to keep thriving employees in place.
Last week, my phone rang, and when I answered, a woman cheerily said, "I just wanted to let you know the One-to-One training subscription for your iMac is set to expire next week. Did you want to renew?"   "Expire?" I thought incredulously. "It's a year already?"
How best to motivate employees and organizations to work together on career development and skills training.
By Neal Goodman, Ph.D., President, and John Schieman, Vice President, Global Programs and Marketing, Global Dynamics, Inc. The ubiquity of information networks and mobile computing is transforming the nature and quality of global learning. More than ever, learning is now a continuous process, delivered through just-in-time training and other techniques that maximize value. Continuous Learning