July / August 2020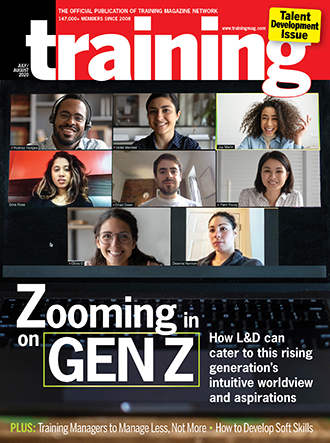 Consider how the learning content will look. But also consider what the learners' experience with the content will be.
Being an introvert, I revel in working remotely, but I know for millions of others around the world, working from home is not so easy. And training from home is next to impossible. 
Such an approach looks forward, simplifying the environment to remove barriers before they deter learning and allowing a company to fine-tune its course content and integrate personalization into module-based learning.
Find out about the latest advances in training technology.
The latest products and services launching in the training industry.
The latest training industry mergers, acquisitions, partnerships, and more.
How L&D can cater to this rising generation's intuitive worldview and desires.
What manipulatives can you send or give to your learners so they have something in their hands while going through an eLearning program? How can you engage their whole body in learning instead of just relying on words and animation on a screen?
Now more than ever, it will take extra savvy and skill to manage yourself, your many work relationships, and all the competing demands on your time and talent.