May / June 2014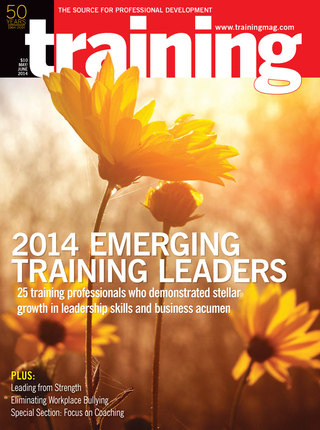 View Digital Edition
Nearly 80 percent of 547 respondents indicate that current business challenges require a different leadership style, but only 21 percent believe their organization's leadership practices are effective, according to a new study, "The Leadership Deficit," from APQC, a nonprofit leader in benchmarking and best practices research, and sponsored by THEaster Consulting.
Great leaders know that nothing changes, improves, grows, or progresses until someone executes. So how do leaders break the "sitting on the log and calling it work" syndrome?
Leaders in learning constantly question. They question their process. They question their systems. They question themselves. As you make your mark as an effective and efficient learning professional, here are three questions you must ask yourself.
If you want to develop leaders, teach them to make an abiding commitment to doing what the best leaders (at all levels) do best: the fundamentals. That means consistently engaging every direct report in an ongoing, high-structure, high-substance, one-on-one dialogue.
6 tricks for jumping off the excuse train and forging the path to your goals.
The latest training industry mergers, acquisitions, partnerships, and more.
The latest products and services launching in the training industry.
Find out about the latest advances in training technology.
Companies that appear on the 2014 Training Top 125, Training Top 10 Hall of Fame, and Best Companies for Leaders lists offer insight into their successful leadership development strategies.
Leading from strength requires self-awareness and reflection, as well as an understanding of the organization and its current operating environment