May / June 2015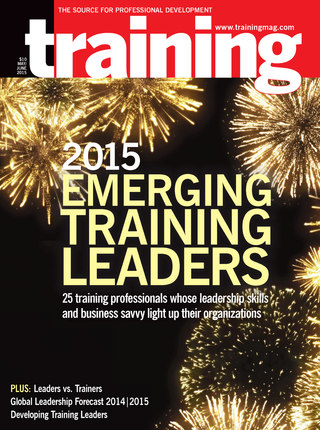 View Digital Edition
While most organizations offer "horizontal" leadership development to build critical leadership skills and competencies needed to weather complexities and succeed, leaders also need "vertical" development that teaches them to think in more complex and adaptive ways, and to use their leadership skills more effectively.
The latest products and services launching in the training industry.
The latest training industry mergers, acquisitions, partnerships, and more.
Focus on the fundamentals, such as spelling out expectations, following up regularly, tracking performance closely in writing, and holding people accountable.
Managers are the most undertrained and underappreciated employees in corporate America, according to a study conducted by Kelton Research and Root Inc. of 205 Training/HR executives.
Watch a baseball game long enough to see a player hit the ball and run through first base. Then think about the connection to learning: You're done after you finish, not as you finish.
Organizations worldwide have increased their focus on innovation. Yet, too often, they're stymied by ingrained fear of failure and internal politics, as well as a lack of clear strategies and repeatable processes to make innovation measurable and accountable across the enterprise, according to a study released by the Business Performance Innovation Network.
A salute to 25 extraordinary training professionals who have been in the training industry for two to 10 years and have demonstrated stellar growth in leadership skills, business acumen, and innovation.
Each year, Training magazine requires all Training Top 10 Hall of Famers to submit an Outstanding Training Initiative. Here are the details of IBM's Technical Women's Pipeline Project.
Training magazine taps 2015 Training Top 125 winners and Top 10 Hall of Famers to provide their learning and development best practices in each issue. Here, we look at CareSource University's strategy for coaching leaders through transition.