May / June 2020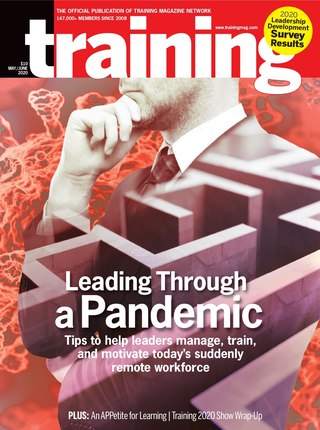 View Digital Edition
Needs analysis is the process of sifting through the information gathered during the needs assessment to begin to make decisions about next steps.
Getting the right things in place to stay on top of developing your leaders.
Tips for recruiting the right learning platform administrator.
Business transformation requires organizations to learn the agility dance and master the steps to an empathic, people-centered approach to change that nurtures a culture of aspiration, alignment, autonomy, and accountability.
Mindfulness training is being recognized for its potential in business by improving decision-making, lowering turnover, increasing productivity, reducing stress, enhancing engagement and creativity, and resulting in a more empathetic and satisfied workforce.
Employers are increasingly turning to qualified external partners such as Champlain College Online to help them build the flexible L&D opportunities they're seeking.
As citizen developers, we become a part of the application development and delivery process—we have the opportunity to shape the applications our learners will interact with and manifest our designs, with no coding required.
Here are five ways to do it well.
Most organizations today understand the importance of formally, or informally, identifying high-potential talent. The challenge comes with creating development opportunities that are meaningful and engaging, and that prepare talent for future leadership roles. After all, why go to the effort of identifying emerging leaders if you don't do anything to differentiate their development?
The key is awareness: that people have a particular communication style, and that navigating between styles is a learned skill.