May 2021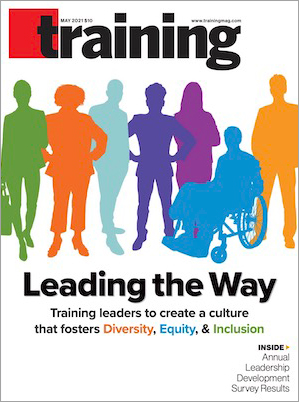 View Digital Edition
And so are some leadership development trends and best practices in response to tremendous challenges in the last year.
A look at Training Top 100ers Compass One Healthcare's Patient Transportation Foundations program and International SOS' Level Up program.
Details of Training Top 100 Hall of Famers Booz Allen Hamilton's New Leader Immersion program and KLA's Leadership for the New Normal program.
Employees want more feedback from their managers and fewer pointless meetings, according to a survey for Motivosity conducted by OnePoll.
New data from NovoEd shows the impact of remote work on learning and development (L&D).
Our very own Lori Gardner epitomizes the definition of servant leader as she listens deeply and always makes everyone feel welcome and valued.
The latest products and services launching in the training industry.
The latest training industry mergers, acquisitions, partnerships, and more.
Find out about the latest advances in training technology.
Insights from Training's Learning Leaders Summit.