Home
September / October 2015
September / October 2015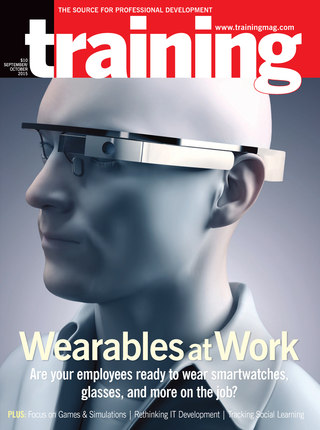 View Digital Edition
Be aware of these four ways technology can hurt rather than help.
Technology-enhanced learning will progressively evolve in the years ahead. We must be prepared to maximize that learning's impact in the workplace.
Passion and priorities are the best guides for deciding how to cope with change.
A forecast for the future of learning includes microlearning and learner-created learning paths.
Companies miss the mark when trying to achieve employee engagement without first considering inclusion.
Competition in games and simulations-based training is a key factor in boosting employee and client engagement at Bellevue University, Passle Limited, and UCSF Benioff Children's Hospital.
Israelis expect flexible training that follows just-in-time audience needs.
Six things to share with subject matter experts when working on a training project, so they can sift through their vast and deep knowledge base to present just the right information.
...To embedded, interruptive interactivity in soft skills e-learning. Instead, focus on information design—the art of presenting content in a way that engages people and sustains their interest.
A case study from BMC Software demonstrates how to make the leap from talking about mLearning to going live with an effective program.