Home
September / October 2020
September / October 2020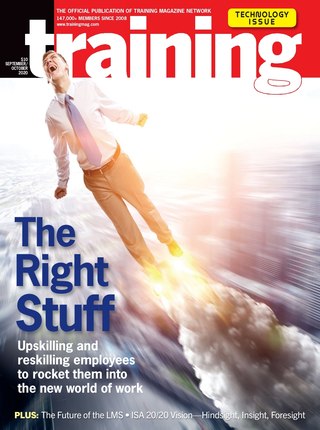 View Digital Edition
A step-by-step guide to creating a shareable job aid.
As your coach, I challenge you to engage in three conversations this month that will help ensure you are working on the right things while modeling motivation for those you lead.
The latest products and services launching in the training industry.
The latest training industry mergers, acquisitions, partnerships, and more.
An industry survey conducted by Learn Events and VR training company Mesmerise shows how training programs are focusing on new topics and embracing technology amid the pandemic.
Making sure we're equipped with the technology to best handle the changes in the coming decade.
Communication and technology are always important, but they are particularly crucial during challenging situations such as hurricanes and pandemics.
Each year Training magazine requires all Training Top 10 Hall of Famers to submit an Outstanding Training Initiative that we share with our readers. Here are the details of Booz Allen Hamilton's Data Science 5K (DS5K) and KPMG LLP's Continuous Learning on Tax Reform.
ISA's first-ever virtual Annual Business Retreat helped members rethink not just how they deliver training but also what their businesses and people need to be able to thrive in these extraordinary times—and into the future.
For three Training Top 10 Hall of Famers, the future of classroom training is all about architecting development experiences and optimizing the learning environment.