Home
September / October 2020
September / October 2020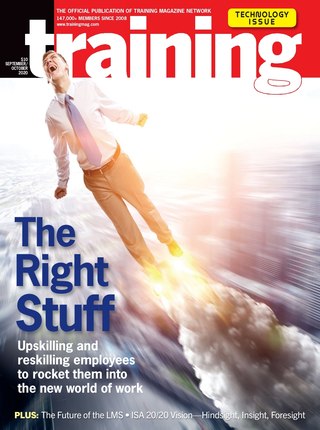 View Digital Edition
The develop phase is where learning plans begin to take shape and come to life before moving to the implement phase for rollout to and feedback from a pilot group. Presto!
Understanding how artificial intelligence works is the first step in figuring out how we can apply it to training.
Transferring face-to-face classroom energy strategies to the virtual environment.
Training, connection, and supportive networks accelerate recovery.
Forward-thinking organizations have already created forums to bring diverse employees together to share their experiences and deepest concerns and fears in the hope that coalitions of understanding and support will result from these interventions.
How might we deliver training on a device that is brain controlled? What do instructional designers and developers need to learn in order to understand the breakthroughs in this evolving interface?
There's no silver bullet for talent reskilling. Anyone trying to sell you that idea should be shown the exit promptly.
A three-pronged framework can help you create an effective onboarding process that enables new hires to learn and then apply what they know to their work.
Find out about the latest advances in training technology.
More than half of the respondents (60%) to a FormAssembly survey prefer to work from home for the near future, with 27% open to a part-time model.