complaints

-

search results

If you're not happy with the results, please do another search
OptumRx Learning Services reinvented Customer Service new hire training by creating situational, scenario-based learning in seven stages.
In the cases of job applicants' public Facebook pages, is it OK for a company to "snoop" and see what it finds?
The top complaints candidates have about interviewing is that the process is too slow or they did not receive enough feedback. Don't let top talent get away because of an antiquated or poorly planned interview process.
An outward mindset begins with making more of an effort to see and understand others—their objectives, their needs, their challenges, and their circumstances.
Employees will be more productive at work if you give them time to do the things that mean the most to them in life.
In the newest edition of the Generational Differences course, participants gain insight into the value of a multigenerational workplace and learn strategies to bridge the differences, leading to better working relationships and increased productivity.
Hurricane Harvey's impact on workplaces and employees.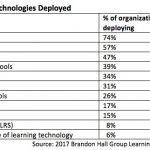 Only about one-third of respondents have a mature strategy for their technology and have integrated it with other systems, according to Brandon Hall Group's 2017 Learning Technology Study.
Searching for creative ways companies can benefit from the expertise and skills of employees of all ages.
Your standards and processes for work excellence were created through your specific cultural lens. They reflect your environment and a set of values from your culture. Although it makes complete sense to you in your context, it may not work well for another culture with a different set of values and beliefs.