Home
January / February 2019
January / February 2019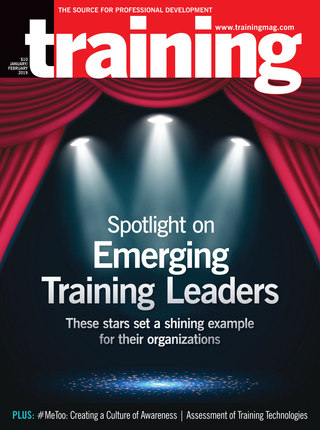 View Digital Edition
The beginning of a new year is a great time to reflect on past successes, evaluate what is no longer working, and make plans for the future.
Look inside your company today to find and develop the emerging leaders of tomorrow.
With its personalized approach to building competence and confidence, adaptive learning has the potential to drive better performance, as well as reduce errors and liability.
Highlighting the results of an in-person program on unconscious bias taken by a CEO and his executive cabinet of 12 men who work at a billion-dollar industrial manufacturing company.
The integration of humans into machine learning processes will benefit the way technology influences the design, development, and delivery of learning experiences.
Tips for writing successful, fair tests that both measure whether learning has occurred and stimulate learning through recall.
Techniques for helping coaching clients convert "good intentions" into actions.
Companies should view their high-potential leadership programs as a long-term investment strategy, applying the wisdom behind financial investing to their high-potential strategy.
This year, focus on those who are helping carry your team's goals forward. Find ways to let go of the 20 percent who AREN'T spending time on you and your objectives and/or your team's goals.
It is better to leave a position unfilled than to fill it with the wrong person. Here are several ways to make your selection process more rigorous.