May / June 2016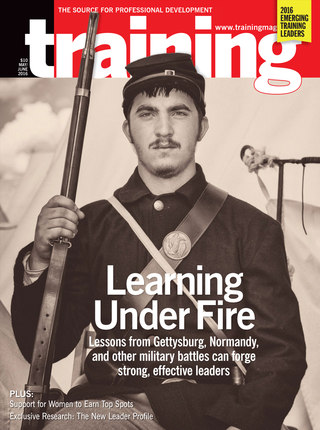 View Digital Edition
No one wants to see their superstars take their talents to another company. Here are some tips to keep your superstars engaged.
 
Want to be a better leader? Know yourself and understand how you're motivated, then look to apply that process throughout your organization.
 
Find out about the latest advances in training technology.
The latest products and services launching in the training industry.
The latest training industry mergers, acquisitions, partnerships, and more.
Nearly 80% of 170 female financial advisors attending the first-ever Edward Jones Women's Conference earlier this year say confidence is among the biggest factors impacting leadership, success, and fulfillment in a career.
Scientists at global leadership development consultancy Development Dimensions International (DDI) wanted to know why there are not more women in the top ranks of leadership and released two research studies to find the answers.
I have been fortunate enough to serve as an editor under three exceptionally talented and business-savvy women who mentored me and helped me attain my ultimate dream job: editor-in-chief of Training magazine. But many women today find themselves unable to advance further up the corporate ladder.
Each year Training magazine requires all Training Top 10 Hall of Famers to submit an Outstanding Training Initiative that is shared with our readers in a print issue. Here are the details of PwC's The PwC Professional: Spotting Development Opportunities.
Training magazine taps 2016 Training Top 125 winners and Top 10 Hall of Famers to provide their learning and development best practices in each issue. Here, we look at Leading Real Estate Companies of the World's MAESTRO program.