May / June 2016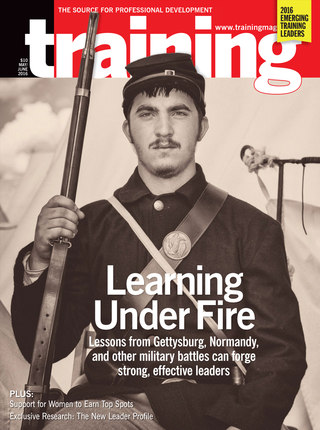 View Digital Edition
Cultivate knowledge in people and develop innovative ways to realize organizational goals.
Organizations and L&D professionals need to take steps in several key areas to deliver essential global leadership competency skills at an increasingly rapid pace.
Five strategies for being the person—and leader—you are meant to be.
Answers to three common questions about virtual instructor-led training (ViLT), specifically pertaining to multitasking, video, and engagement.
Training programs that address the unintended loss of quality leadership in multinational companies due to language differences and perceptions can help create more successful globally inclusive organizations.
Five simple rules to weather a perfect storm with disruptive squalls gathering on multiple fronts: societal, technological, economic, and political.
Austrians value training highly and prefer a didactic and well-defined methodological approach with clear applicability and a dash of humor.
The key is to know your audience and to remember that generation is just one dimension of a person.
Social media represents both risk and opportunity, but no business or leader can afford to be offline. Here are some tips to get started.
Leaders often stay too long because of the uncertainty of what's next for them and for the firm. It is hard to do what is in the best interests of the organization and also in one's best interests. It takes moral courage to leave a safe place when you have been comfortable.