May / June 2019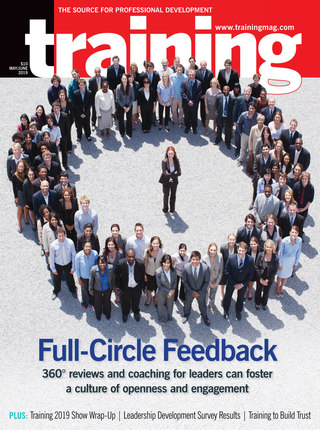 View Digital Edition
Training magazine taps 2019 Training Top 125 winners and Top 10 Hall of Famers to provide their learning and development best practices in each issue. Here, we look at Rosendin Electric's Foreman Development Program and developing leaders at Valvoline Inc.
Insights from Training magazine's 2019 Learning Leaders Summit in Orlando
Attendees struck learning gold at the Training 2019 Conference & Expo, Learning Leaders Summit, and Innovations in Training events held in February in Orlando, FL.
What high-performing organizations are doing differently than lower-performing organizations when it comes to leadership development.
Leadership development programs are commonplace; less commonplace is an effective way to measure if they work. Companies are making an effort to determine whether and how leaders—and their organizations—are benefiting from these programs.
An employer can be a force to fear, or a force for trust and cooperation. More companies are discovering ways—including specific training—to build trust with their employees, fostering greater productivity and higher employee retention in the process.
360-degree reviews and coaching for leaders can foster a culture of openness and engagement.