Home
November / December 2013
November / December 2013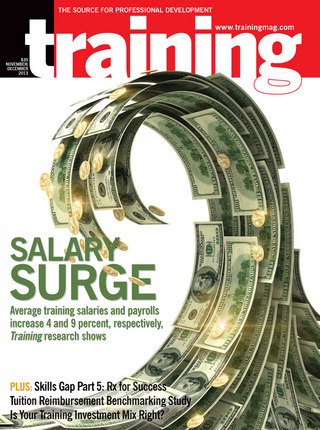 View Digital Edition
Recently, a Learning professional colleague asked us, "Why is workplace learning so complicated? Isn't it simply about improving people's performance?"
Do you remember those divisions at universities and colleges called "lifelong learning centers"? Their name was an attempt to remind all of us who had graduated and gone on to work that learning should never stop.
If content is king, then caring needs to be queen in training. And caring, connection, and context cannot always be conveyed through an online or distance medium.
The end of the year is a time to take stock of where we have been professionally and personally over the last 12 months. Based on this analysis, we then look to make adjustments and craft resolutions to hold ourselves to those adjustments in order to achieve our goals in the following year.
More than 58 percent of mobile devices are now smart phone or tablet based, and this year alone there will be 70 billion-plus apps installed on these devices. If you haven't already started, over the next 12 months, you need to develop a mobile strategy and define how you will integrate mobile into your new courses and apps or how to supplement your training with new content, apps, and tools.
Those who have had the greatest impact on our lives typically are those who took an interest in us: mentors and sponsors.
Given the culture of growing global competition, businesses are developing executives based on talent, creating opportunities for nationals to excel—regardless of gender. In developing nations, ex-pats often are called upon to develop talent and anticipate the needs for the next generation of leadership demands.
Swedish companies can earn far higher profits selling finished goods as opposed to commodities. Training is needed to allow this change to occur.
Take a page out of marketing's playbook and increase training attendance by creating a campaign that builds excitement for the program.
Leadership literature is exploding with books and articles to help us become better leaders. At the same time, numerous leadership programs, institutes, centers, coaches, and consultants claim to develop more effective leaders. Annually, the Center for Public Leadership at Harvard measures public confidence in leadership with its National Leadership Index (NLI). It surveys Americans' attitudes toward their leaders, including 13 of the country's major sectors such as the military, religious, education, and business. In 2012, according to the NLI, "some 69 percent of Americans still believe we have a leadership crisis."