November 2023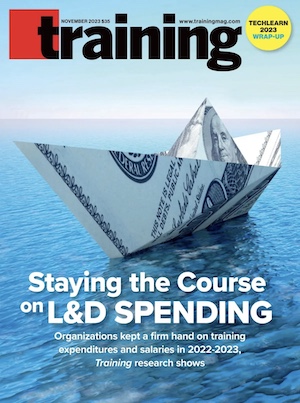 November 2023
View Digital Edition
Organizations kept a firm hand on training expenditures in 2022-2023, according to Training's Industry Report.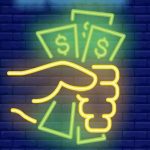 Average trainer salaries inched up just 1.25 percent in 2022-2023 to $92,619, according to Training's annual Salary Survey.
Artificial intelligence (AI) and its potential role in L&D dominated many conversations at TechLearn 2023 in New Orleans.
Training magazine taps 2023 Training APEX Awards winners and Training Hall of Famers to provide their learning and development best practices in each issue. Here, we look at HD Supply Inc.'s Internship Program and Veeam's Advance Pathway Program.
Each year Training magazine requires all Training Hall of Famers to submit an Outstanding Training Initiative that is shared with our readers in a print or onlineonly issue. Here are the details of Keller Williams Realty International's Keller Successful Career Opportunities in Real Estate (KSCORE) and KW Prep initiative.
Master trainer Bob Pike leaves a vast legacy of training wisdom.
It also encourages future collaborations and personal development.
Coaching on time management can be a game-changer for employees.
Only 46% of respondents say they feel "somewhat recognized" at work, not surprising given that the average American employee hasn't received a raise at their current job in the last three years, according to a new OnePoll survey.
Some 88% of business owners and C-level executives are given a choice on when, where, and how they do training compared to just 37% of entry-level employees, according to research from CYPHER Learning.