Home
January / February 2014
January / February 2014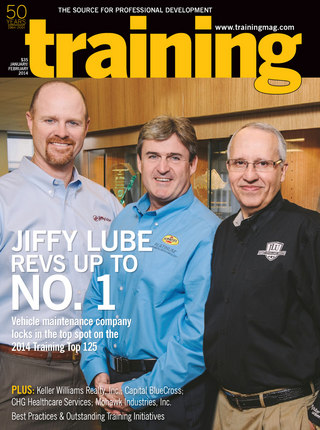 View Digital Edition
Farmers Insurance and Verizon are the newest inductees into the Training Top 10 Hall of Fame, joining the ranks of the 12 companies named to the hall since its inception in 2008 (Wyeth Pharmaceuticals subsequently was acquired by Pfizer Inc. in 2000).
How do you prepare for your training sessions? How do you prepare the subject matter experts (SMEs) to present in your classes? Often, we are eager to give people course content and assume the presentation process will take care of itself. That's a mistake we can't afford to make—especially when a training program is using multiple presenters.
Jiffy Lube International Inc., takes the No. 1 spot.
Mark your calendar for Online Learning 2014 Conference, Chicago, McCormick Center, September 22-24, 2014. Join our mailing list here to be notified when registration opens. The...