Home
January / February 2014
January / February 2014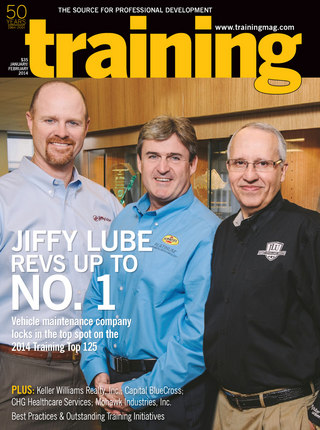 View Digital Edition
The latest training industry mergers, acquisitions, partnerships, and more.
IF YOU'RE AN INTERNAL Learning & Development (L&D) professional, you direct the action among management, consultants, and learners and need to use negotiation skills with each party to produce meaningful outcomes.
The latest products and services launching in the training industry.
When it comes to leadership/management training, we often focus on the points of pain for the business, such as diminished performance, low morale, or higher turnover. But what about the points of pain for the leaders/managers themselves?
LEADERS SPEND A SIGNIFICANT PORTION OF THEIR TIME engaged in interactions.
A Productive Leader Seeks Success
A manager in Denmark is more a leader, a coach, a guide compared to the more directive managers of the U.S.
One area ADP business leaders continuously seek to improve is decreasing time to productivity of newly hired sales representatives in a rapid, agile way. Accelerating First-Year Sales Performance was created in 2013 to address this challenge and support ADP's strategic goal of Agility (building and selling great products faster).
Mentors rarely realize the impact they have on the lives they touch. Adjusting strategies with the grace of a martial arts master, the best of them shift seamlessly from teacher to coach, confidante to counselor, cheerleader to drill sergeant, all in an effort to bring out your best.
For the first time since the creation of the Training Top 10 Hall of Fame in 2008, Training magazine required all Hall of Famers to submit an Outstanding Training Initiative that would be judged by each other and shared with our readers.