Home
January / February 2014
January / February 2014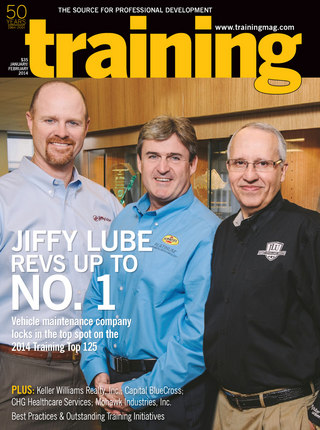 View Digital Edition
Health-care staffing company CHG Healthcare Services had a year of doubling down and focusing on becoming even stronger at what it does best. In addition to ongoing efforts such as keeping its leadership pipeline strong and cultivating an engaged workforce, the company looked for ways to become a Leaner organization
Flooring manufacturer Mohawk Industries knows it's at a pivotal point in its growth. Last year, the Training team distinguished itself by supporting the company in its efforts to top competitors. There also were gains made in providing learners with the technology they need to be prepared for their jobs.
WHAT ISSUES ARE KEEPING HR professionals up at night at the start of the New Year?
Q Much of our training—from Emotional Intelligence to Consultative Selling—promotes the idea of considering another person's perspective. That's easier said than done. Can you offer any advice on how to put it into practice?
New joint research conducted with Training magazine and an experiential workshop based on "The Orange Frog" parable prove the competitive advantage of positive psychology in the workplace.
Goodnews Cadogan is an executive leadership and professional-life coach who focuses on individual, team, and organization development. As founder of the nonprofit Centre for Courageous Authenticity in Leadership in South Africa, he stresses advocacy, research, displays of courage and authenticity, and professionalism as a means of effecting lasting change or transformation.
Aghhh! It happened again today, and I just wanted to run screaming out of the room. Trainers, don't try to put 10 pounds of stuff in a 5-pound bag. No matter how fast you talk, you simply can't fit that four-hour training session into a 30-minute time slot. Curb yourself. Resist the urge to even try.
Much has changed since the global recession. Budgets are tight, accountability is everywhere, and business results are expected routinely. All functions in an organization, including Learning & Development, face tremendous challenges to show value. The good news is that the Learning & Development community is responding with changes in their approach to evaluation. Here are seven metrics trends that are occurring globally and particularly in the U.S.
The changes coming with the introduction of the Affordable Care Act mean trainers at a health insurer such as Capital BlueCross (CBC) have their work cut out for them. With a public often concerned about what health-care reform means to their coverage, trainers at CBC have prepared their employees with answers to top questions.
When MasTec North America, Inc.'s Utility Services Group came under new leadership just over a year ago, it identified an opportunity to focus on employee development almost immediately. The competition within the utility construction industry is fierce, so whatever MasTec could do to recruit, develop, and retain the best employees would prove to be a competitive advantage.