Home
January / February 2014
January / February 2014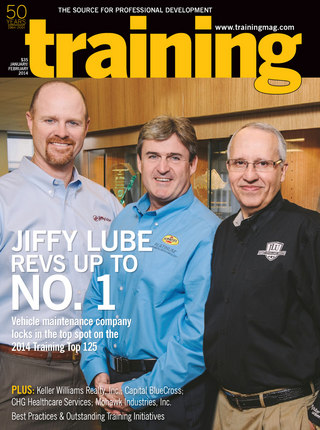 View Digital Edition
Real estate franchise Keller Williams Realty started 2013 with three ambitious goals. First, to increase its agent count by 8,000 associates. Second, to increase its per-agent commissions by 20 percent. And third, to make sure at least 92 percent of its franchise offices were making a profit.
Lyndon B. Johnson was president. The Animals' "The House of the Rising Sun" and Roy Orbison's "Oh, Pretty Woman" topped the song charts, while Mary Poppins ruled the cinema. A gallon of milk cost $1.06. People called on rotary phones. Magazines such as Life and Look cost 25 to 35 cents an issue.
Would the leaders of your organization be willing to serve as teachers of strategy, innovation, new product development, or a new diversity initiative? How well equipped are they at using blogging and other social media to teach?
Find out about the latest advances in training technology.
Jiffy Lube International, Inc., put the training pedal to the metal, roaring into the No. 1 spot on the 2014 Training Top 125. The 100 percent-franchised organization's aligned and focused approach to training—in particular, training on new services, customer service skills, and leadership— has resulted in a 900 percent increase in the number of stores at 100 percent certification, a reduction in turnover, and a 93 percent approval rating by franchisees.
Jiffy Lube International, Inc., was firing on all cylinders as it earned its first No. 1 spot on the Training Top 125. Keller Williams Realty, Inc., moved into the No. 2 spot (up from No. 41 last year), while CHG Healthcare Services inched up a notch to No. 3. Top 5 newcomers Capital BlueCross and Mohawk Industries, Inc., took Nos. 3 and 5, respectively.
Over the years, I have had the privilege to work with several senior learning leaders whose organizations regularly earn a spot on the Training Top 125 list. While pondering what separates those who consistently achieve the pinnacle of success in Training and Development, I isolated three key areas I believe contribute significantly to their achievement:
A new year brings excitement and commitment to bettering our personal and professional lives. Unfortunately, the excitement soon fades, and according to research from VitalSmarts, only 10 to 20 percent of employees reach their career resolutions by the time the ball drops the following year. So what stands in the way of career success?
Most of us have either sat around a campfire ourselves and sang the words or we've joined along with our own or other people's children in a sing-along of "If You're Happy and You Know It…" followed by the random actions chosen by each singer depicting what makes him or her happy.
It seems everyone in training is getting agile these days. I've found at least four distinct uses of the word, "agile"—each of which is useful to instructional designers and learning leaders (and some of which I'll discuss during my Training 2014 session, "How to Get Started with Agile Project Management Methods for E-Leaming," at 8:15 a.m. February 4)