July / August 2015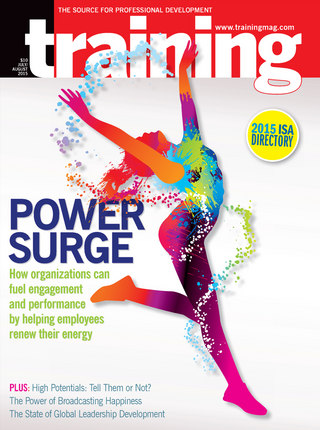 View Digital Edition
The latest products and services launching in the training industry.
The latest training industry mergers, acquisitions, partnerships, and more.
What do you do when you have a superstar who is going to leave? If at all possible, make it a long goodbye to facilitate a good succession plan, comprehensive knowledge transfer, and a smooth transition.
How do you know if you were a productive leader today? And how do you plan better so you get the important things done tomorrow? Here are three rules for higher performance.
Find out about the latest advances in training technology.
Some 85 percent of employees report they are losing sleep due to work-related stress, according to a survey of 714 U.S. workers by global talent mobility consulting firm Lee Hecht Harrison.
According to the national "Millennial Mindset Study" of 1,200 employed Millennials (ages 18 to 33) conducted by online training platform Mindflash, the "lack of company support for training and development" is the No. 1 most surprising aspect of work in the "real world."
A significant discrepancy exists between the educational credentials employees are pursuing, and the credentials managers want employees to have, according to a joint research study conducted by the University of Phoenix and EdAssist.
A few days of in-person collaboration and interaction with my colleagues (plus the VIP treatment) was exactly what I needed—an escape from answering e-mails, scheduling articles, and hounding people to meet deadlines.
Each year, Training magazine requires all Training Top 10 Hall of Famers to submit an Outstanding Training Initiative that is shared with our readers in a print issue. Here are the details of Booz Allen Hamilton's Role Map Resource Guide and PwC's Advisory New Manager Milestone Conference.