Home
November / December 2015
November / December 2015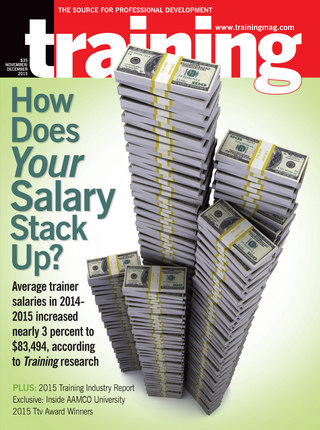 View Digital Edition
Savvy online searches enable us to, for example, save links to favorite sites, make journals of summaries and tips, and document answers to frequently asked questions.
The latest products and services launching in the training industry.
The latest training industry mergers, acquisitions, partnerships, and more.
Find out about the latest advances in training technology.
Keep in mind the three pillars of leading people through change.
Online video delivers the best results compared to other training methods in terms of teaching new things, improving performance, and preparing employees for the future, according to a survey conducted by Biz Library of 1,800-plus employees during the summer.
Assessment, intervention, and development are key to helping leaders overcome potential hurdles in their careers.
Ask three questions about last year's goals and gain perspective on the goals you're planning for next year.
Lately, I find myself singing "Row, Row, Row Your Boat" twice while washing my hands. I definitely think twice about stepping outside in a thunderstorm. And I feel queasy every time I attach a document to one of my e-mails.
Each year Training magazine requires all Training Top 10 Hall of Famers to submit an Outstanding Training Initiative that is shared with our readers in a print issue. Here are the details of The Edge: The Art and Science of Lasting Client Relationships, which EY worked with JMReid Group to design, develop, and deliver.