Home
November / December 2016
November / December 2016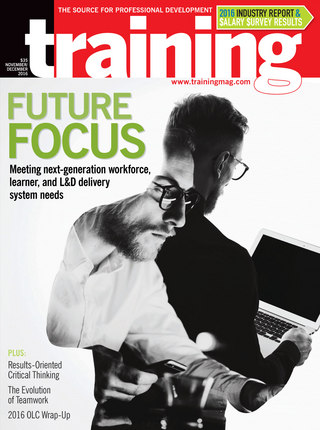 View Digital Edition
As training leaders look ahead and assess new technology, a big question is on the table. How can companies create a learning environment where employees become a competitive advantage?
Every Learning practitioner's journey toward business acceptance.
How principles of gamification can help us win at work.
What are the behaviors we experience relating to training and performance in the workplace—and what are the stories we make up to explain those experiences?
Designing a new leadership system for today's increasingly Volatile, Uncertain, Complex, and Ambiguous (VUCA) world.
The best way to innovate is through partnerships. Look outside the walls of your organization for strategic partners that can make it happen for you.
Master trainer Sivasailam Thiagarajan, a.k.a., Thiagi, challenges learning processes with creative, thought-provoking games that rewrite the way we learn.
Small group discussions, case studies, and skills practices are well received by Dominicans. After these activities, a whole group debriefing is appreciated.
To create real change, and to maximize our long-term impact as Training professionals, it is critical to embrace our own evolution as we learn, grow, and impact others.
A Fortune 100 technology firm uses a five-phase approach to digitize content and improve time-to-market, throughput, and content reuse.