Home
September / October 2018
September / October 2018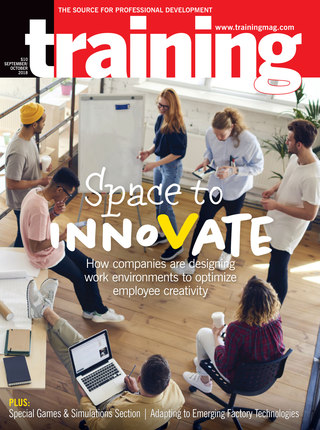 View Digital Edition
Being influential is not about what we learn to do to others but what we learn to be for others—consistently becoming the kind of person others want to follow.
Are you ready to put some goggles on and really learn?
As Training professionals, we need to go beyond the "traditional" right answers and look for new solutions if we hope to get better results from our training efforts (or even maintain current results!).
The emergence of new players in the certification market has produced three phenomena.
How you build trust, manage people, plan, and make good impressions all are linked to cultural differences—and that's where training comes in.
Training is in its infancy in Cambodia, and developing training programs there requires vast resources.
With the proper balance, technology can help keep learners engaged in training and ultimately retain what they have learned.
When someone tells you that you need to "be more strategic," what they want is for you to show how you're driving corporate strategic goals and adding real value to the organization.
While it may seem counter-intuitive, what happens in cyberspace outside the classroom actually may be the key to a more engaging, personalized classroom experience that breaks out of the "one-size-fits-all" approach.
Why the AI-enabled workforce needs an evidence-based approach to education.