July / August 2018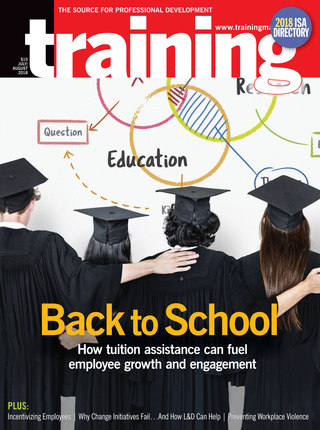 View Digital Edition
In a small Fort Worth suburb in North Texas, you'll find a 700,000-squarefoot learning and development center called Deloitte University. DU, as it is known, represents a $300 million Deloitte commitment to develop leadership skills and incubate innovative solutions to complex business challenges worldwide.
This ISA Spotlight article is provided by an ISA member company. ISA is an association of learning providers committed to helping training and talent development firms succeed. For more on ISA, click here.
Being the bearer of bad news is neither fun nor easy. Successful managers tend to be direct (although not harsh) early on in the conversation.
Going a little deeper on improving employee engagement.
Start by involving managers in the process of training. Coach them on how to prepare people to come to class. And help them develop learning implementation contracts.
Working at the level of collective insight requires letting go of one's own biases and embracing the wisdom of others in an open and additive way.
VR 360 videos provide immersive experiences that have a physiological effect on the body, allowing users to connect with content in a deeper way.
A look at a model train-the-trainer program, "How to Mitigate Unconscious Bias at Work," that achieved significant success at a major manufacturing and distribution company.
CEOs and HR professionals in Sri Lanka are rethinking leadership styles and looking for ways to maintain high productivity, engagement, and output while reducing their own stress level and that of their employees.
The coaching world shows us three levels of giving positive feedback depending on the personality, situation, and regularity of the practice: Praise, Acknowledgment, and Appreciation.
Switch the way executives learn and apply new skills