July / August 2019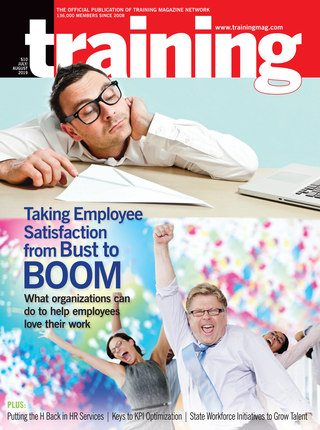 View Digital Edition
Training magazine's Innovations in Training Dublin will showcase new approaches to learning at work during a field trip November 7 to 9.
How often do you schedule time for learner reflection into your course content?
Understand the impact you make when you recognize people the right way for their positive contributions at work.
Three areas today's HR and L&D leaders need to focus on as they evolve their talent development strategies.
The VP of Marketing and Sales from headquarters created an incentive program for the sales staff based on the number of leads attained each day. What could go wrong? Plenty!
We are seeing VR technology becoming less tethered, notes VRScout's Bobby Carlton. "There's a big movement around freeing users—letting them have a full range of motion."
The basic steps of succession planning are the same regardless of organizational size.
In the book, "Alice Through the Looking-Glass," by Lewis Carroll, Alice has a discussion with the Cheshire Cat.
A tool called Organization Network Analysis (ONA) allows companies to uncover their hidden Zappers—those who create energy—and connect them together into networks that fuel discretionary effort.
Talent Engagement is maximizing your employees' talent, skills, or abilities (what they love to do) for the good of the company—and as a result, for themselves.